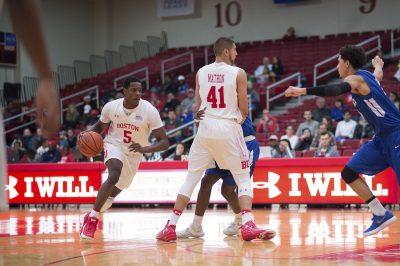 The Boston University men's basketball team is destined to look much different next year with the departure of its five seniors.
Usually, this would raise questions as to where leadership would come from and who would be poised to assume a head role on the team.
However, freshman guard Walter Whyte may already be solving that issue for the Terriers (14-15, 10-8 Patriot League).
"He's one of the more likeable guys on the team," BU head coach Joe Jones said. "Great demeanor, great guy, mature. We are going to look for him to take a step forward next season."
Whyte, the Terriers' most anticipated recruit for the class of 2017, has emerged as a commanding presence in the locker room and on the court as the regular season progressed.
"I like the team," Whyte said. "The team chemistry, I love it. These are my brothers."
Heading into Thursday's Patriot League quarterfinal matchup, Whyte is averaging 13.2 points over his last five games after notching double digits just three times in the nine contests that preceded this stretch.
"He does a lot," Jones said. "He's our best offensive rebounder. He can score the ball and he's disciplined around the basket. He doesn't make a lot of mistakes and can guard multiple positions."
Rebound-wise, the New Haven, Connecticut native has become a force as well.
After averaging just 3.7 boards per game entering Patriot League competition, Whyte has upped that number to 4.9 per tilt.
He put up 16 points and 11 rebound in a 92-81 win over Lehigh University on Jan. 8, 14 points and 10 rebounds in a loss to Bucknell University on Jan. 28 and 15 points and seven boards in a victory over Loyola University Maryland on Jan. 31.
"I feel more comfortable out there," Whyte said. "Everything has just turned up to another level."
Most recently, after missing four games to injury, all of which were Terrier losses, Whyte has reinvigorated BU, leading them to two consecutive wins and the No. 5 seed in the conference tournament.
He netted 14 points on 6-for-11 shooting against Lafayette College on Feb. 21 before helping the Terriers to a comeback win over the United States Military Academy Saturday afternoon with 10 points.
The St. Luke's School product was a decorated high school player, earning NEPSAC Player of the Year twice while wearing the badge of being the only mid-major baller to perform in the 16th annual Jordan Brand Classic.
However, it took Whyte a little while to transition to playing college ball.
After using his 6-foot-6 frame to play in the front court in high school, Whyte had to make the switch to handling the rock and shooting threes from the perimeter.
The learning curve Whyte faced was evident in the first few weeks of the season.
After averaging 9.0 points through BU's first four games, Whyte saw his minutes and production decrease over the following three contests.
While his scant 17 minutes against Wheaton College can simply be chalked up to the Terriers facing Division III competition, Whyte saw just 12 minutes against the University of New Hampshire the following outing.
He then hit just one of his five field goal attempts at the then-No. 10 University of Miami, decreasing his points per game average to seven.
This slide led Jones to lend Whyte a seat on the bench for the subsequent outings against Elon University and Harvard University, a multi-game stint that got the wheels in motion for Whyte's emergence in conference play.
"I wasn't producing," Whyte said. "That time on the bench helped me think about what I needed to get done. I gotta get things done and I wasn't doing it. I deserved to be on the bench."
The move motivated Whyte, as he returned with a vengeance after the Christmas holiday.
In the Terriers' Patriot League opener against Army (13-17, 6-12 Patriot League), Whyte notched 16 points and six rebounds, helping his team to an eight-point win.
Two games later, Whyte was at it again at the glass, hauling in seven rebounds to accompany eight points in a 68-65 loss to Loyola (9-21, 6-12 Patriot League).
During the contest, BU was out-rebounded by the Greyhounds 43-36. Whyte noted the importance of this facet of the game in his team's success.
"If we out-rebound the other team, we win 100 percent of the time," Whyte said. "We are just trying to crash the glass as much as we can — offense, defense. [Jones] has really been emphasizing me hitting the glass."
With this added confidence came a more dangerous three-point shot. As Whyte became more comfortable playing in the backcourt, his shooting followed suit.
He knocked down two of the trio of threes he attempted in the triumph over Army before going 3-for-3 in a three-game span from Jan. 8 to Jan. 14.
"I take open shots, good shots, and they are falling," Whyte said. "I am not trying to do too much. I am not trying to do anything too difficult. I am just trying to stay focused and do my job."
However, what has impressed Whyte's BU counterparts more than his maturation on the court has been his development off the court.
"He's a great teammate," freshman guard Javante McCoy said. "He's real positive on and off the court as far as being vocal and leading."
Whyte has not been bashful in the locker room, fitting in nicely with the senior-laden group with a strong sense of humor.
Living with his freshmen counterparts has allowed Whyte to create bonds that will last throughout his college tenure, and his personality has made its mark on the rest of the team.
"He's a great guy," McCoy said. "Really funny."
With the Terriers slated to have just one senior next season, guard Kamali Chambers, the door will be ajar for Whyte to step into a pilot role on the squad.
Leading on the court and in the classroom with a sense of humor intact is a role one can expect to see Whyte fulfill as his college career progresses.
"He's a leader," McCoy said. "He's a student. He focuses on his work and gets it done."