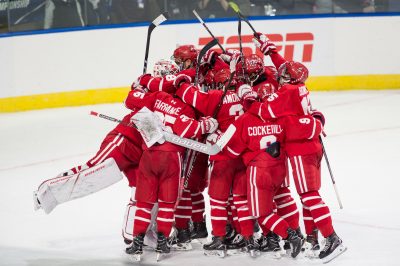 The No. 13 Boston University men's hockey team has faced its fair share of adversity during the 2017-18 season. However, it has only made the Terriers (22-13-4, 12-8-4 Hockey East) stronger as they kept their season alive for one more day after beating No. 4 Cornell University 3-1 Saturday afternoon.
Back in November, BU fell to Cornell (25-6-2) 4-3 during the biennial Red Hot Hockey matchup at Madison Square Garden.
The Terriers got their retribution behind goals from their freshmen — forwards Shane Bowers and Logan Cockerill, and defenseman David Farrance who tallied the game winner.
"It was a physical game. It was a fast game," BU head coach David Quinn said. "That's as big and strong as the teams you're going to see in college hockey and they play fast. It took everything we had to beat them."
The Terriers put 21 pucks Big Red freshman goaltender Matthew Galajda's way while sophomore goaltender Jake Oettinger made 30 saves for his 21st win of the year.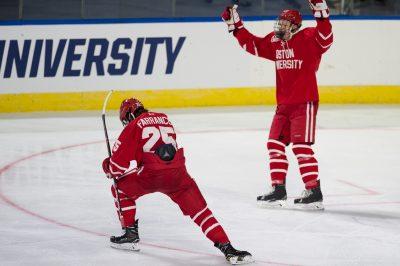 "I know I've said this a lot, but you have to have a bunch of characteristics to win and you can't just have talent," Quinn said. "You have to have heart, desire, resiliency, mental toughness and I thought we had all of that today and that's the reason we get to play tomorrow."
BU was outshot by Cornell in each period yet all they needed were two successful goals to pull out the win and move onto the Northeast Regional finals Sunday afternoon.
After a score-less and penalty-free first period, the Big red got on the board 7:27 into the second frame.
The puck was broken up in the corner as freshman forward Cam Donaldson fed it to senior forward Trevor Yates who was waiting at the top of the slot. Yates then beat Oettinger for his 13th goal of the season.  
The Terriers only had to live with the one-goal deficit for 36 seconds and followed up with three unanswered goals.
Junior forward and assistant captain Bobo Carpenter got the puck to senior defenseman and captain Brandon Hickey in the left faceoff circle. Hickey backhanded a shot toward the net, which was redirected past Galajda by Bowers.
"Bobo makes a good play to Hickey to just [the puck] on net and I was lucky enough to get a stick on, but I think the response was huge for our team," Bowers said. "It kind of dropped us down right after they scored, but brought us right back up and we were able to build from it."
Four minutes and 39 seconds into the third period, BU struck again.
From behind the net, freshman forward Brady Tkachuk passed the puck to Farrance who scored a one-timer through traffic.
"It was a heck of a play by Brady and some great offensive instincts by David," Quinn commented.
The Big Red had numerous good looks on the net as the period wound down, but were unable to get past Oettinger.
With 17 seconds remaining in regulation, Cockerill found the back of the empty net from the neutral zone, sealing the Terriers' win at the DCU Center.
BU will play either No. 8 Northeastern University or the No. 10 University of Michigan Sunday evening to determine who will move onto the Frozen Four.
While Quinn said the game wasn't his team's best, the main goal remains putting themselves in "the best position to win on a nightly basis."
"We'll obviously talk about our opponent, whoever it may be once the game ends, but this is so much about how we've been playing and just continuing to do the things we've done to put ourselves in this position," Quinn said.
CORRECTION: A previous version of this post stated that Bowers' game-tying goal was 33 seconds after Cornell's goal, but it was 36 seconds. The current version of this article reflects those changes.