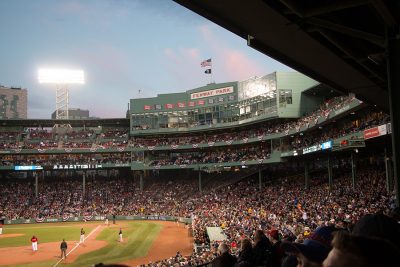 When he's not busy making "dope cappuccinos," barista extraordinaire and Boston University alumus Brian Engles is preparing for the release of his debut novel, a young adult book titled "Wildball," which hits bookstore shelves on April 12.
In "Wildball," baseball becomes the backdrop to an infield of personal crises and toxic masculinity. Topics of bullying, abuse, friendship and camaraderie mix in this coming of age tale set in a fictional Cape-Cod-like, community.
Centered around collegiate shortstop Shane Monoghan, Engles' novel follows Shane as he navigates competitive summer league baseball, a problematic host family and the death of a former high school coach who used to bully him. As the pressures on him increase, Shane finds relief in the mentoring of a local kid.
Engles, who graduated from BU's College of Communication in 2013, said "Wildball" was directly influenced by his experience working in the film industry. A negative experience with a film internship encouraged him to switch to prose writing.
"['Wildball'] started after I did the BU in Los Angeles program," Engles said. "I had some negative experiences with some people that I worked for out there, and I just kind of needed a way to work out some of those issues."
Engles said he's always used writing as a way of sorting through problems he had faced. Having studied film and television during his time at BU, Engles discussed the initial difficulty of transitioning from a screenwriting style to a prose-based one.
"I didn't really write stories when I was at BU. It was mostly screenwriting stuff," Engles said.
Currently working as a barista in his hometown of Falmouth, Engles decided to make his book Falmouth-inspired but set in a town resembling Cape Cod.
"Writing your hometown, you know, you've done a lot of research growing up there," Engles said. "That is pretty accessible in your head, getting it onto the page."
William McKeen, associate dean of COM and chair of the Department of Journalism, wrote a blurb praising Engles' writing in "Wildball."
Though he's never taken a class with McKeen, Engles said he felt "very fortunate" to have received a blurb and support from the BU community.
"It was good reading," McKeen said. "I just thought I was really impressed with it. … I just think Baseball is the sport that has produced the best literature, and this reminded me of taking my boys to the Cape Cod [Baseball] League and seeing those games. I was happy to offer a couple words of support."
Engles crowdfunded money to publish "Wildball" using Publishizer and will release the book through Black Rose Writing. Reflecting on his journey to publication, Engles said he would tell younger writers to be prepared to write anywhere.
"Always have a notebook on you," Engles said. "So many ideas can come at the wrong time, so just keep a notebook and a journal of those things. Not all of those ideas are going to be great, but that's just something that has helped me have something to work with."
Maintaining connections made throughout college is also key, Engles said.
"Keep in touch with your friends and your professors and your circle at BU. I know that's been pretty valuable for me moving forward because a lot of the kids I went to school with are now across the country, and they supported the book and have given resources for me."
Though Engles ultimately didn't wind up writing for film, BU still played an important role in his growth as a writer. "Spending time in the chair," he said, is the only way to truly improve, and he thinks BU instilled that work ethic in him.
Engles knew he was on to something when he looked forward to spending time within in the world of "Wildball."
"I wanted to kind of spend time with the characters and spend time in the world I was creating," Engles said. "That's kind of how I knew I was on to something good. It was a world I wanted to spend my time in."