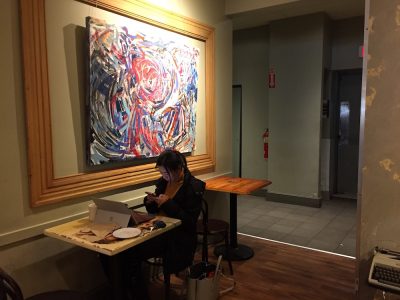 Sitting around small tables and sipping artisan coffee, patrons in Pavement Coffeehouse sink easily into the warm atmosphere of the shop, taking in the seemingly random wall art.
But the art is far from random. Pavement, which has six locations around Boston, goes out of their way to showcase local artists, continually seeking out new artwork.
"I think right now we're currently doing rotating in four of our shops, and the long-term goal is to kind of have an even balance between rotating local artists and purchasing local art and hanging it permanently in our shops," said Emily Moeck, brand manager at Pavement.
Moeck said BU's Pavement has always been a prime location for displaying new work.
"[The BU branch] was kind of always our flagship for great art 'cause there's so much wall space," Moeck said. "And we also do a comedy night, which I started, kind of in the same vein, to kind of connect with our community."
The art is chosen by Eva Redamonti, supervisor at their Gainesboro location.
"I go to open house studios, art shows, peruse around the internet searching Instagram using hashtags like #bostonarts, #bostonartist," Redamonti said.
Redamonti bases her decisions on several factors, like her own personal taste and the rotation of art styles, from realism to surrealism.
"My decisions are based on not only my personal taste of artwork I like, but also trying to give a fair rotation of photography, painting, illustration, abstract art, realism — all while staying within the parameters of what is appropriate in a cafe setting that people feel comfortable eating around," Redamonti said.
Demetri Espinosa is one of Pavement's featured artists, and his work is currently on display in their BU location. When it came to Pavement, Espinosa said most of the work hanging now was completed a while ago, with the exception of a couple designs made specifically for the shop.
"I'm a child of immigrants," he said. "That's probably the most important thing to know about me. I grew up at the intersection of three very different cultures, so there's a lot of conflict — visual conflict — in my work, and I think it's there to serve as a parallel to some of the internal conflict inherent in my lived experience of having grown up in a bit of a cultural gray area."
Though Espinosa's art is abstract, he said it usually reflects his lived experiences.
"I make a lot of work about my life and my experiences," he said. "That's not always obvious since most of it is pretty abstract, but it comes through in different ways and at different times."
Emma Simonoff, a freshman in BU's College of Communication, said she thinks Espinosa's work brings a splash of color to Pavement's cozy interior.
"The art is really colorful which is nice because it brightens up the cafe," Simonoff said. "Also, it's abstract so it's interesting to look at but it's not distracting."
Currently, Pavement isn't rotating artists back into the shop who have already shown. But recently, Moeck said, they've been so successful in getting artists to contact them with their work that they've started a running list of future artists to showcase.
"It's hard because the Boston art scene is so transient that they kind of move away," Moeck said. "But if it's that good, like sometimes we get really big oils — it's so stunning to be in a cafe that has big pictures, so we try to keep that stuff as long as possible."
Originally, the art started as employee art, Moecke said, and eventually transitioned to them getting local artists up on the walls when people started asking if they could show their work.
"I know a lot of Starbucks used to hang local art, and I think we're kind of the only ones keeping with the local artist thing, which is cool."
Local artists can contact Pavement at [email protected]