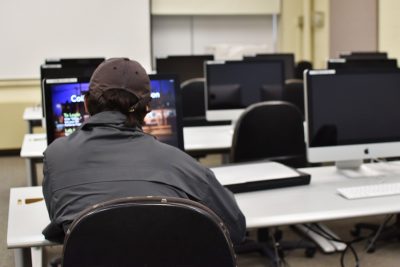 Starting in September, the Boston University College of Communication will be switching to a Bring Your Own Device (BYOD) policy, which will involve getting rid of most of the computer labs in COM.
The decision to switch to a BYOD policy came from the minimal use of the computer labs, COM Dean Thomas Fiedler said. A question arose of how the spaces could better be utilized for new technology.
Students are already coming to COM with the necessary technology, Fiedler said, and maintaining the computer labs has become outdated.
"I believe the latest number is literally 99 percent of all our incoming COM students come in with their own devices," Fiedler said.
Fiedler said another strong factor in the decision to rid COM of some of its labs was the ability students now have to download the Adobe Creative Cloud onto their personal devices for free, thanks to a deal BU made with Adobe last year.
Before this deal, Fiedler said, the labs were necessary due to the Adobe licenses connected to the computers in the labs.
The expenses required to maintain the 11 computer labs in COM had become unjustifiable, since students were bringing their own functional devices, Fiedler said. Fiedler said one lab will remain open on the third floor of COM for any students who wish to work in that kind of atmosphere.
Peter Smith, a professor of photojournalism in COM, said he thinks getting rid of the computer labs has long been a necessary step for COM to take.
"Most of my students, I'd say probably about 80 percent, have their own laptops," Smith said, "… and they're very happy with the idea that they're getting software for their own computers so they can work anytime, anywhere."
Smith said the labs prove difficult when trying to run his classes. His students are hidden from view by the large computers, making it hard for him to connect with them and teach them effectively.
"It's almost impossible to be able to reach out to the whole class and have a 100 percent response from the students," Smith said. "I would say the response is probably about 20 percent [in computer labs]."
Christophor Cavalieri, a professor of television in COM, wrote in an email that the BYOD policy is simply the next step for COM in terms of technological advancements.
"From a production standpoint, the majority of students are already editing on their own devices, so the user transition has been underway for quite some time," Cavalieri wrote in an email.
Although Cavalieri said he expects some problems during the switch to the BYOD policy, he wrote that he believes the COM staff is well-equipped to handle it.
"As with any overarching change, there will be some transitional issues, but they're usually short-term issues," Cavalieri wrote. "To that end, COM's technology staff is well-positioned to make the change as seamless as possible for students and faculty alike."
COM sophomore Antonia Frank said she won't be affected by this policy change, as she has her own computer, but said other students who only own tablets or cellphones could be inconvenienced. Yet, she sometimes finds laptop use in class to be a disturbance.
"Sometimes it is kind of distracting when everyone has a computer," Frank said. "It can be really loud, especially in big lecture."
Fiedler said many other schools have already instituted similar policies.
"A lot of other schools have already gone in this direction," Fiedler said, "so we're kind of slow to the party on this."
COM senior Christy Matino said she is not in favor of the new BYOD policy. Although she has the Adobe software downloaded onto her personal laptop, she sometimes prefers using the large Apple monitors in the labs to see the detail in her work when using Photoshop, InDesign and other similar programs.
"I think having [fewer labs] is [going to] … not allow COM students to really fully access and create the best work that they can," Matino said.
Veronica Liu, a first-year graduate student in COM, said she is also opposed to COM getting rid of the computer labs, as she uses them almost every day.
"I'm an advertising major and I need to do a lot of design," Liu said, "… so it would be [an] inconvenience for students who need labs."
With changes like this one, Smith said, dissent from faculty and students is bound to occur, but it is time for a change.
"Times change, technology changes, and our goal is always to make it so it's more real-world, like industry standard," Smith said.
The COM website states that most of the computers in the labs will be sent back to Apple in exchange for credit that BU will use to buy loaner laptops. But Brad Fernandes, COM's director of technology, wrote in an email that the college does not yet have a plan for what it will do with the iMac computers.
The loaner laptops will be purchased using COM's technology budget because it is uncertain how much money the college would receive from the equipment liquidator, Fernandes said. COM is committing to purchasing a set number of loaner laptops regardless of how much it gets in return for the iMacs.
Getting rid of the computer labs will give COM more space for other technology, such as virtual reality, Fiedler said.
"We think this is going to free us up to put technology money into the future, as opposed to maintaining the past," Fiedler said.
Fiedler said he hopes this technology will be made available by 2019.