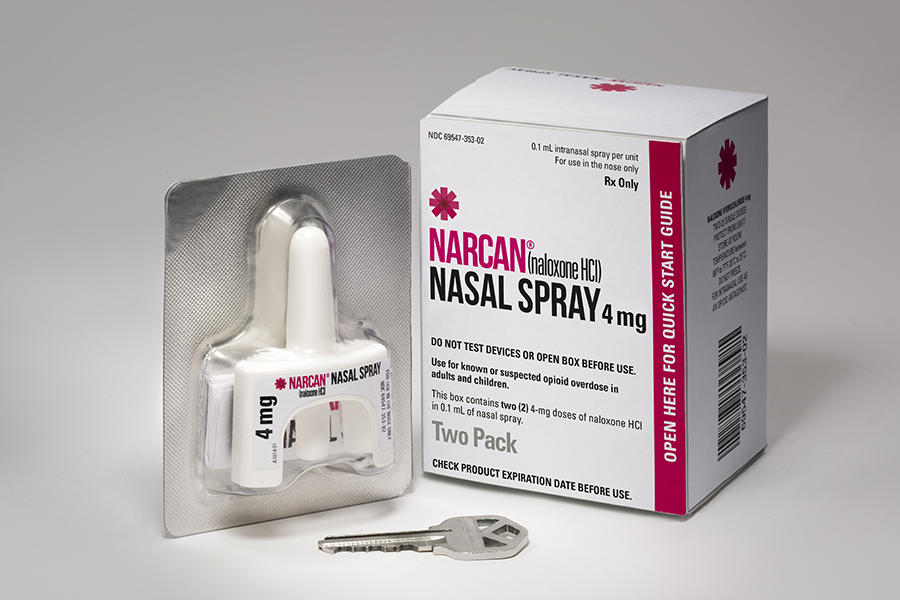 For first responders, the opioid overdose-reversing drug naloxone is more expensive than it has been in years.   
This past fall, a state fund discounting naloxone for first responders depleted, doubling the price of Narcan — a brand name of naloxone nasal spray — to $71 per box of two units for police and fire departments across the state.
As the need for naloxone persists, Massachusetts Department of Public Health officials wrote in a legislative report that municipalities don't have the resources to purchase enough of the drug.
Some first responders have reduced how much naloxone they purchase as they review their budgets, according to the report. However, the DPH has heard reports on how there has been an increase in dosage amounts to revive an individual that has overdosed due to "fentanyl in the illicit opioid supply," which pressures budgets across the state.
Thanks to a $325,000 deal Attorney General Maura Healey cut with Amphastar Pharmaceuticals in 2015, first responders previously paid for Narcan at a reduced rate of $40 per box through the Municipal Naloxone Bulk Purchasing Trust Fund.
The one-time settlement offered only a temporary discount, the DPH wrote in an email to The Daily Free Press. Even after the discount expired, the price of Narcan to first responders is still significantly below its retail price of $125.
But not everyone thinks this discount is enough. The cost of Narcan to first responders is still overpriced, said Richard Saitz, the chair of community health sciences at the Boston University School of Public Health.
"What pharmaceutical companies are charging for, in general, is the device and the packaging," Saitz said. "There is something to be said for having a convenient product because it might be easier for people to both obtain, carry, and use…[However,] the price should, in addition to reflecting its value, it should also reflect the cost to make it."
A potential way of reducing the price of supplying naloxone to first responders is to use the cheaper alternative to Narcan: a naloxone syringe. Administering naloxone through a syringe currently costs $34 per unit, but it's not as convenient, Saitz said.
"[A syringe and atomizer] might be a cheaper package to put together, but that means somebody has to put that package together and it isn't necessarily as convenient to carry around in your pocket," he said.
The other solution, Saitz said, is for the government and insurers to put pressure on pharmaceutical giants to reduce the prices of their products.
Eliza Wheeler, national overdose response strategist at The Harm Reduction Coalition, said public health dollars should go toward distributing naloxone among drug users rather than subsidizing it for first responders.
"In a witness overdose, the person witnessing the overdose should be the priority for any health department and program to make sure that person has naloxone," Wheeler said.
While first responders should carry naloxone, said Wheeler, it is counterintuitive for the state to direct its funds to supplying first responders with the drug when fellow users are more likely to witness an overdose.
"No one is even calling 911 and engaging the police to begin with if someone isn't there," she said.
However, Saitz said, overdoses are common for first responders to come across. In 2017, there was an estimated 1,977 overdose deaths in Massachusetts.
"First responders want to be able to do whatever they can for whatever they're most likely to encounter, and opioid overdoses are not that uncommon for first responders to come across, so it makes sense that there's something that they can easily have and use that can reverse an overdose," Saitz said.