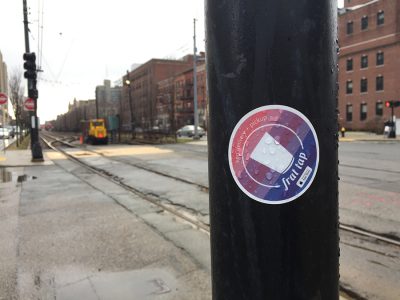 Abigail Erkes was sitting on her couch one weekend when her roommate came home from the liquor store. She watched him struggle to lift a heavy keg of beer upstairs into their apartment. Something clicked in that moment for her: there had to be a better method of transporting the keg.
Three years later, in January 2018, Erkes launched the Frat Tap keg delivery service to simplify the party process and transportation of kegs.
"I realized kegs aren't a common thing, but they're so fun. Everyone loves beer," Erkes said.
Frat Tap is an app that allows customers to order kegs from their phone and have them delivered anywhere in Massachusetts. Customers can choose from a menu of beer options, as well as their size of keg. They choose a time slot to drop off the keg and a time to pick up the empty keg.
Erkes graduated from Boston University in 2017 with degrees in philosophy and finance. Shortly thereafter, she invited her friend Nicholas Mishol, another BU alum who graduated with her, to head the company as vice president. Mishol studied hospitality and works operations for Frat Tap, while Erkes handles finance and administration of the app.
During college, Erkes spent two years working with a team of computer scientists at the Massachusetts Institute of Technology to develop and launch the app. Once she graduated, Erkes fostered partnerships with various liquor stores around Boston to find the cheapest prices possible to sell through the app.
For now, Erkes and Mishol run the business on their own.
"We function incredibly efficient as just us two," Erkes said. "We're so passionate about this. It's all we do and think about."
They were able to find support from friends in school, and as recent alums themselves, they said people are able to trust their small business brand over larger corporate entities.
"The thing we get a lot is, 'how come this hasn't been done before?'" Erkes said. "People can't believe how easy it is."
Erkes said she wants the BU community to know that Frat Tap isn't just about giving people massive amounts of beer quickly. It's about making the process as safe as possible.
Frat Tap is the first keg delivery service to regulate the consumption of a keg, according to Erkes. When a keg is delivered, IDs of any consumer are checked. If a fake ID is found, Frat Tap can take the keg away.
"Compare that process to how it usually works — one person goes and buys a keg to bring it to a party where there's god knows how many underage kids," Erkes said.
Frat Tap deals with less liabilities than expected, Erkes said. But she still had to spend two years working with a team of lawyers to receive a Express Transportation Permit from the state of Massachusetts so the company could legally transport and deliver kegs.
Erkes said one unexpected dimension of running Frat Tap has been breaking down gender barriers. She would often wonder why she'd never have a keg at parties she's thrown at her apartment and why she's only ever seen kegs at frat parties.
Even just being a woman in the beer industry feels revolutionary, Erkes said.
"But it's fun to break barriers," she said. "Especially when I'm doing something I love."
But it hasn't all been smooth sailing. Erkes and Mishol have faced a few challenges in creating their business, like creating a recognizable brand and getting people out of their usual buying habits.
For now, they're starting off small, focusing on building their brand within the BU community, but the business is in conversation with various groups at schools in the Boston area.
The next step for Frat Tap is getting ready for one of their biggest days of the year: Marathon Monday. Once Boston's weather improves, they hope to be outside promoting their brand and giving away free merchandise, such as stickers and cups.
The company's name, Erkes said, refers to its goal: making kegs accessible to everyone.
"We want everyone to have the ability to throw a frat party, at the tap of their fingers," she said.
CORRECTION: A previous version of this article said Erkes threw parties "with her sorority." It should say Erkes threw parties "at her apartment." The current version reflects this change.