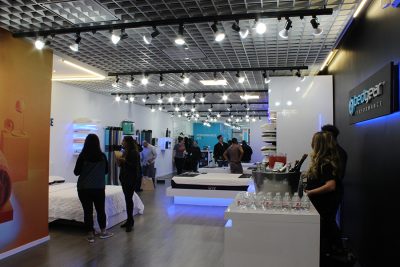 Training to run a marathon is no small feat. It requires a disciplined diet and exercise regimen, specially outfitted shoes and breathable clothes, not to mention the proper amount of rest. However, of these necessities, sleep can often fall by the wayside.
Bedgear is aiming to change these perceptions of the relative unimportance of sleep, both for athletes and the general population. The company, now in its ninth year, sells its products through over 4,000 retailers around the world, and now, for the first time, is selling its products at a pop-up shop in the city the company considers its "mini home," Boston.
The shop officially opened on Newbury Street on Friday, with a private VIP party the night before. There, local entrepreneurs and friends of the company had a chance to mingle, explore the renovated building that used to house American Apparel, drink fruity mocktails and try Bedgear's newest products.
"We just wanted to really get to know the neighborhood and kick off marathon weekend," said Shana Rocheleau, vice president of strategy at Bedgear.
Rocheleau has been with the company since its inception, working alongside founder and CEO Eugene Alletto, who created the company while questing to create a mattress that would help his son's allergies. To prevent his son from overheating, Alletto made the mattress using moisture-wicking materials used in active wear.
"It's always about evolving and finding new ways to get you a better product," Rocheleau said. "We want you to be inspired to try something new, and we feel like if we don't have that innovation, you're going to be bored."
Bedgear's dedication to "redefining sleep" also extends to the process of shopping for mattresses and pillows, Rocheleau said.
Just as runners consider their gaits, strides and foot size when selecting shoes, Bedgear advocates for and practices a similar fitting system for their personalized pillows. Employees help customers to consider their sleeping position, average body temperature and mattress type when determining which kind of pillow will provide them with the greatest quality of sleep, Rocheleau said.
"The way we eat has been redefined. The way we drink water has been redefined. The way we sleep has not been redefined," said Allie Hartman, senior public relations manager at Bedgear. "If you walk into a mattress store 20 years ago and you walk into a mattress store today, it looks the same, so we're here to change that, and I think that's a really powerful thing,"
While guiding guests through the shop, Hartman sported one of Bedgear's signature shirts, featuring a new spin on the brand's slogan. Rather than "Wake up, world," the metallic letters across Hartman's chest read "Wake up, Boston."
"People think so hard about what they put on their back when they leave their house, what shoes they wear and how comfortable they are, but they don't really put the same thought into their bedding," she said. "We're here to help them wake up to what it really means to sleep and help change consumers' perceptions."
Bedgear plans to host events open to the public throughout their two and a half months in Boston, the first of which took place on Monday after the marathon.
Participants and spectators were welcome to explore the store, receive free Kinesio taping and professional-led stretching exercises for maximum recovery said Faith Paris, director of public relations at Bedgear. Runners could also submit their bibs to be entered into a raffle.
"We hope to spread the message to runners and their fans that we're a brand that's really dedicated to performance and recovery," Paris said. "Unlike other brands that talk about using their products to sleep better, we are saying use our products to recover better when you sleep…"
Olympic hockey players Amanda Pelkey and Kacey Bellamy, both of whom attended the VIP party with their gold medals in tow, attested to importance of quality sleep.
"They really care about what they're selling," Bellamy said. "You can't put a price on good sleep, and it really is a difference-maker in life no matter what."