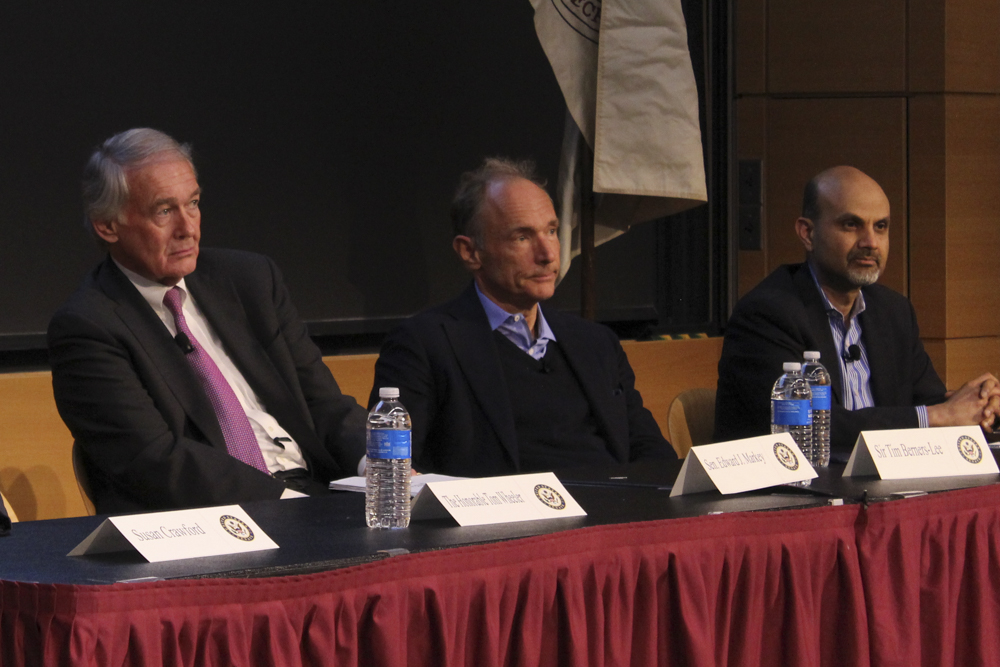 Massachusetts Sen. Ed Markey spoke about his recent efforts to overturn the Federal Communications Commission's decision to repeal net neutrality to a crowd of over 500 people at the Massachusetts Institute of Technology's Wong Auditorium Thursday night.
Markey has been leading the campaign to protect net neutrality standards for Massachusetts residents since the FCC voted to repeal the policy in December. He has also encouraged citizens to talk to their state representatives about voting against the repeal in next month's Congressional Review, which will give Congress members the opportunity to overrule a regulation.
At the discussion, Markey talked about his month-long campaign, #OneMoreVote, which, he said, if successful, would become the first instance in which Congress overturned a Republican president's regulation.
"It begins right here in Cambridge," he said.
Former FCC Chairman Tom Wheeler said three out of four American homes have one choice for high speed connection to the internet, at most.
"We're in a situation where you've got a national asset that is crucially important to institutions and individuals and a gatekeeper monopoly that can determine how you can get to that asset," Wheeler said during the discussion. "The Trump administration is saying that we can trust companies to make those rules, but we can't."
Eighty-three percent of Americans are against the repeal, according to a survey from the University of Maryland. Markey said the overwhelming support for net neutrality makes this issue uniquely bipartisan.
Susan Crawford, who co-led the FCC's legal affairs in the transition between former Presidents George Bush and Barack Obama's administrations, said this issue's momentum should not stop with the Congressional Review.
"This has a crucial issue for the 2020 election," Crawford said during the discussion. "When it comes to certain utilities, the private market isn't gonna do this by itself."
At its core, net neutrality is an economic issue, she said. Through the repeal of net neutrality, Crawford said millions of Americans would be left behind, allowing "grotesque inequality" to continue in the United States.
Tim Berners-Lee, the inventor of the World Wide Web, said that net neutrality is an issue of human rights. When he created the web, he said he hoped that it would be used freely, fairly and accessibly, which is currently threatened by the repeal of net neutrality.
With a lot of confusion surrounding this topic, Markey said net neutrality is important to the American people.
"What net neutrality really means is non-discrimination for how American people access their internet," he said. "It has to be fast, fair and open."
Wheeler said there are, or should be, three main points of net neutrality: no blocking, no throttling and no fast lanes. He explained that those who don't have equal opportunity due to the loss of net neutrality will be pushed out of the way.
Mohamad Ali, the CEO of Carbonite, an online backup service that has been working to reverse the repeal of net neutrality, said this repeal will have a strong impact on businesses, with smaller companies and startups being the most affected.
"We [businesses] pay for the internet," he said. "We deserve to get fair access and fair use of the internet."
In the light of recent events involving Facebook releasing private information into the public sphere, panel members discussed how net neutrality would help secure users' information by keeping it out of privatized hands.
The ability to consent to private information should rest with the users and not with companies, Wheeler said.
"It is your information, not theirs," he said.
Crawford agreed that users information should be controlled only by said users. She said the reason why companies try to use people's personal information is due to how companies believe they are "speakers" and that they believe they should decide whose speech gets heard and whose does not.
Anne Brownell, 74, of Somerville, said she attended the discussion because of net neutrality's relationship to freedom of speech.
"[Net neutrality] would give people who don't have the huge bucks a chance to have access," Brownell said.
David Schwartz, 30, said he believes everyone should have a free and open internet.
"It's just like any other utility," the Waltham resident said. "When you block its access, it takes away from our democracy."
Before leaving to catch his flight back to the United Kingdom, Berners-Lee said the American people should fight for their fight to a free and accessible internet.
"This is really about fundamental rights, which is crucial to our society," he said. "So, it's a really important thing that you're all fighting for."