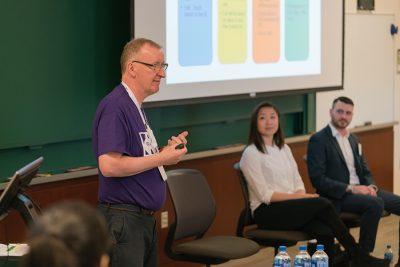 The Questrom School of Business is often quiet and calm on weekends, but the building filled with over 150 students and alumni who came to attend [email protected]'s first annual IDEA Conference Saturday.
[email protected] created the event with the purpose of encouraging students' creativity while teaching them about how to turn ideas into a reality. The speakers at the conference ranged from established entrepreneurs and innovators to local Boston University students with their own clubs.
After a morning of "lightning talks" and the first presentation, attendees split to go to breakout sessions covering various aspects of business and innovation. This concluded in a keynote address from Johnny Earle, the CEO and founder of Johnny Cupcakes, a Massachusetts-based t-shirt "bakery."
Formed in November, [email protected] is a university initiative meant to assist undergraduate and graduate students in developing their ideas. Located across from Marsh Chapel, [email protected]'s hub of operations is the BUild Lab IDG Capital Student Innovation Center, which opened in February.
Blake Sims, program director of social innovation at [email protected], said the BUild Lab has had a successful couple of months, especially considering how young the organization is.
"We've been open for two and a half months, and we've had thousands of students and faculty and staff come through," Sims said.
Over that period, Sims said the BUild Lab has hosted over 70 events including collaborations with student organizations.
"It's been a whirlwind of two months being open, and it's been great connecting with so many students from across the campus," she said.
She said Saturday's conference was also the fruit of months of planning and labor from the entire BUild Lab team and that it went off "phenomenally."
"I've heard nothing but rave reviews," Sims said. "[People] got to see lots of examples of real life entrepreneurs and innovators."
The program held the conference to help encourage camaraderie and support between BU students who innovate.
"[We] wanted to celebrate and recognize innovation and really encourage students that may not feel comfortable working on an idea or don't know that they have an idea or how to take an idea to the next level," Sims said. "[We wanted them to know] that there was a place and space for them to celebrate and connect with one another."
She said she was hopeful that students made connections with resources who could aid them in their endeavors during the conference.
Nikita Arora, a freshman in the School of Public Health, said she felt the IDEA Conference helped her formulate some new ideas.
"I feel like an idea takes time to develop, but I definitely feel inspired now after this conference," Arora said. "It makes you feel like even if you didn't have an idea before, it's never too late to have an idea."
Bharathi Gandi, a freshman in SPH, shared a similar sentiment.
"I have a couple of ideas on the backburner that I haven't thought about in a couple of years … and I acquired some tools today that I'm going to go think about," she said.  
They both said they agreed that Johnny Earle's was one of the best parts of the conference.
Aaron MacDaniel, a volunteer at the IDEA Conference and an alumnus from the College of Arts and Sciences, said he was asked to come assist at [email protected]'s event at an alumni event. MacDaniel, CEO of VR Front Desk, a virtual property management company, said he believes in the goals of [email protected]
"I wish we had something like this when I was a student," he said.