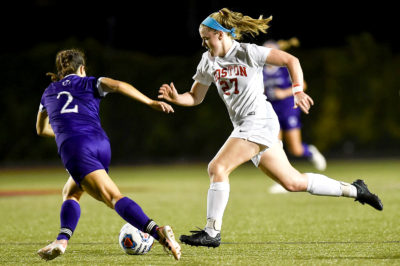 Now headed into its sixth year in the Patriot League, Boston University Athletics has made a name for itself in the conference year-round. While players earned individual academic and athletic All-Patriot acknowledgments, their teams made conference and national playoff pushes. The class of 2018 saw 110 student athletes walk across the stage, opening the door for the class of 2022 to make its own impression. Here is an overview of some Terrier Division I sports.
Fall Sports
Field Hockey
2017 Season-in-review: After going undefeated in conference play during the regular season, the No. 20 Terriers claimed their third Patriot League championship title in four years. The team made a final push past the NCAA opening round into the first round, only to fall short against the undefeated, No. 1-ranked University of Connecticut. Three of the players — graduating senior Kali Shumock and rising seniors Ally Hammel and Allie Doggett — were named to 2017 NFHCA Division I All-Northeast Region squads.
Looking forward: Now in their final year at BU, Hammel and Doggett will serve as co-captains this season. The team's leading scorer, Ailsa Connolly, is returning in her sophomore year. As four seniors leave the team, four freshmen will join it: midfielders Rebecca Janes and Haley Lowell, forward Casey Thompson and Molly Rottinghaus, who plays both positions. BU plays its first home game of the season on New Balance Field Aug. 31 against the University of Maine at 6 p.m.
Men's Soccer
2017 Season-in-review: It took a round of penalty kicks after double overtime to take the Terriers out of the Patriot League semifinals. BU earned a record of 6-2-1 in conference play, bouncing back from a 0-5 start to the season, good for second in the Patriot League regular season. Six players were named to all-conference second and third squads. Between the defensive pair of graduating senior Adam Sheikali and rising sophomore Elias Lampis, as well as rising junior goalkeeper Michael Bernardi, the Terriers allowed only seven goals against them during Patriot League play, while Bernardi earned six shutouts.
Looking forward: While the team's roster has not been finalized for next season, head coach Neil Roberts signed a multi-year contract extension in January. Roberts is ranked No. 12 in wins among active coaches, guiding his team to 29 winning seasons over the last 33 years. Of the team's top six scorers, who combined for a total of 14 goals and 15 assists, none were lost to graduation. BU plays its first home game of the season against the University of Rhode Island on Nickerson Field Aug. 24 at 7 p.m.
Women's soccer
2017 Season-in-review: With eight seniors on its roster, the No. 3-seeded Terriers' winning season ended with a 0-1 loss against Bucknell University in the Patriot League semifinals, despite a shot advantage of 20-7. Five players earned All-Patriot League Honors. Graduate student Rachel Bloznalis became the third player in program history to earn multiple Defensive Player of the Year awards, while rising sophomore Anna Heilferty became the third to be given the title Rookie of the Year after being the top-scoring freshman in the Patriot League. In April, Heilferty joined the U.S. Under-18 Women's National Team in Switzerland for a training camp and two games against the Swiss U-19 Women's National Team.
Looking forward: Tri-captains Libby Closson, Pietra Sweeney and Dorrie Varley-Barrett will have their hands full guiding a freshman class of 10 players. Heilferty's 13 points tied her for highest scorer as a freshman and will likely continue to grow as a sophomore. The Terriers will take Nickerson Field for the first time in the 2018 season Aug. 26 at 4 p.m. against Princeton University.
Winter Sports
Women's hockey
2017–2018 Season-in-review: Despite an injury-laden season, the women's ice hockey team fought its way into the Hockey East quarterfinals, where it fell short in a best-of-three series against Maine. Graduating senior forwards Victoria Bach and Rebecca Leslie, as well as rising junior defenseman Abby Cook, earned all-star recognition within Hockey East and New England Division I. Bach, who built a program-leading 104 goals and 198 points throughout her collegiate career, was a top-three finalist for the Patty Kazmaier Award, which goes to the best women's hockey player in the NCAA.
Looking forward: Rising sophomores Jesse Compher and Corinne Schroeder where both named to the Hockey East All-Rookie Team and will likely be returning next season. Compher dominated in the faceoff circle last season, leading the conference among rookies with 299 faceoff wins with a faceoff percentage of .545. She tied Cook for third-most points, behind Bach and Leslie. In the net, Schroeder served as the starting goaltender through 25 starts — every single game that she appeared in — and earned a goal save percentage of .917.  The team could also possibly see the return of Sammy Davis, who served as an assistant captain last year and did not play due to injury.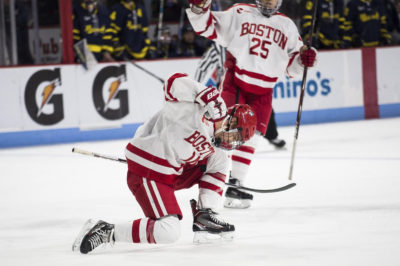 Men's hockey
2017-2018 Season-in-review: The men's hockey team started the year ranked second in the nation, fell to a losing record through the first half of the year and then rebounded with a Hockey East championship that took them into the NCAA Regional tournament.
Terrier-turned-Olympian Jordan Greenway played his final season at BU and was named to 2018 Hockey East Third Team All-Star and All-Tournament Team. Greenway will be spending next season with the National Hockey League Minnesota Wild organization. Rising junior Jake Oettinger, who was drafted in the first round of the NHL draft last summer, earned five shutouts in 38 starts. His last shutout of the season came in the Hockey East championship game against Providence, earning the title of MVP for the tournament.
Looking forward: After the departure of David Quinn, a new face will take over as head coach. Rising senior Bobo Carpenter served as assistant captain, led the team in goals last season and tied Greenway with most points. Meanwhile, rising junior Dante Fabbro's 29 points puts him second in scoring among Hockey East defensemen. Both were acknowledged with New England Division I All-Star Team. Freshmen forwards Shane Bowers and Brady Tkachuk rounded out the top five scorers. Speculation has it that Tkachuk is projected to go in the top five in the 2018 NHL draft. The team can look forward to regaining Patrick Harper, who missed the final half of last season with a respiratory illness. Before the illness, Harper led the team in scoring for the previous season and a half.
Women's basketball
2017-2018 Season-in-review: BU women's basketball made it to Patriot League playoffs, but fell in the end to Lafayette College. The class of 2018 took the team's three-year captain and Team MVP Corrine Williams, who averaged 8.3 points per game and put up double-digit games 11 times in her senior-year run. Rising sophomore Katie Nelson was named to the All-Patriot Rookie Team while rising junior Nia Irving got the nod for the All-Patriot Third Team. Irving led the team in scoring and rebounding with an average of 13.6 and 6.8 respectively.
Looking forward: Alumna Marisa Moseley, who played on the Terriers 2003 NCAA conference push, is taking the helm as head coach next season. She previously served as an assistant coach at UConn for nine years, making it to the Final Four every year. With young top point-getters in Irving and Nelson, Moseley will have tools to work with.
Men's basketball
2017-2018 Season-in-review: Bucknell proved the heel for the BU men's basketball team, who lost against the Bisons in the Patriot League semifinals. The Terriers had previously beat Bucknell 84-79 on their way to a 10-8 conference record. Three starters had graduated the year before, and leading scorer Cedric Hankerson missed a part of the season due to injury. In their absence, rising junior Max Mahoney more than doubled his scoring average from freshman year, good for the All-Patriot Third Team.
Looking forward: Along with the high-scoring, rising sophomore duo of Javante McCoy and Walter Whyte, the team will be welcoming five new players on the court next season. ESPN.com ranked freshman Jack Hemphill as the No. 12 prospect in his home state of North Carolina and as the No. 37 power forward in the nation. The rest of the class of 2022 — guard Garrett Pascoe, wingman Fletcher Tynen and forward Jordan Guest — all hail from California. The team will also gain redshirt-freshman Alex Vilarino, who transferred to BU in January from Texas Tech University.
Spring Sports
Women's lacrosse
2018 Season-in-review: The Terriers matched a 3-6 record through the start of the season with a six-game winning streak in the second half, taking them into their fifth straight Patriot League semifinals and before being defeated by top-seeded Loyola University Maryland. Rising junior Mackenzie Howe and graduating senior Christine Laible were named to the All-Tournament Team. Howe started all 18 games this year and dominated at the draw, while Laible made 20 saves in net during the tournament.
Looking forward: Three players who earned All-Patriot recognition will be returning next season: rising junior Kailey Conry, rising seniors Tonianne Magnelli and Kaitlin Belval. Conry led the team with 43 assists and 70 points, including a program record-setting 13 points in a single game on April 4 against Harvard University. The team is looking for a new head coach for the first time in 15 years after the departure of Liz Robertshaw.
Men's lacrosse
2018 Season-in-review: Loyola proved a terminal foe to the BU men's lacrosse team as well in its run in the Patriot League semifinals game. Graduating senior Jack Wilson served as one of five captains and was held pointless in only one game during his collegiate career, resulting in a program-record 108 goals and 170 points. Wilson was named to the Tewaaraton Watch List, All-Patriot League Second Team, a New England Intercollegiate Lacrosse Association East-West All-Star and as a three-year All-Patriot League Academic Team.
Looking forward: Rising senior Michael Laviano served as one of the assistant captains the previous season, but did not play due to injury. The Terriers can look forward to having its young star Chris Gray, the 2018 Patriot League and ECAC Rookie of the Year, return for his sophomore season. Last spring, Gray led the team with 40 assists and 71 points, which set single-season records for the program.
Softball
2018 Season-in-review: Boston University softball had an impressive season capped with its ninth regular season title, third Patriot League Tournament title and ninth NCAA Tournament appearance. The Terriers became the first time to sweep the five major Patriot League honors since the addition of the Defensive Player of the Year award. They also collected seven All-Patriot League awards, topping the previously held record of six from the 2017 and 2014 seasons. Head coach Ashley Waters was named Coach of the Year after her third year in the position.
Looking forward: The team didn't just depend on its seniors to get the job done. On the pitching staff, rising sophomore Ali Dubois became the first in program history to earn both the title Pitcher and Rookie of the Year. Rising senior Alex Heinen became only the second catcher to be named Player of the Year in conference history, while teammate Emily Morrow was named to the Patriot League All-Conference Second Team.