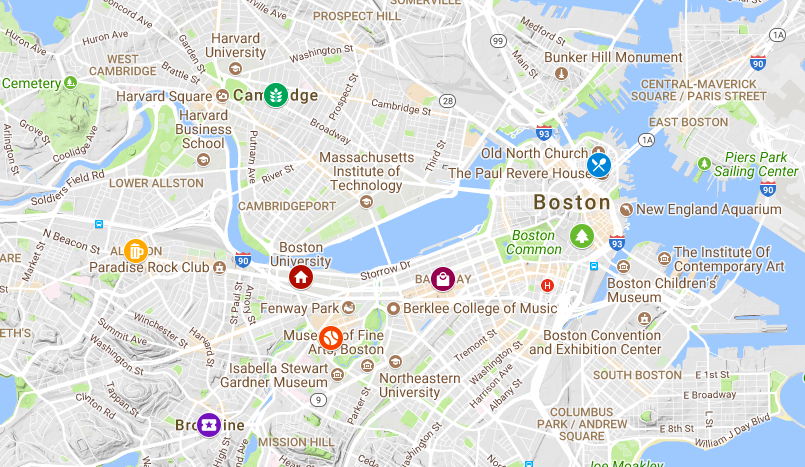 You will never run out of things to do in Boston. Just when you think you have explored every area, you find somewhere new — somewhere you have never been before. The best part of it all is that the best places are either a short walk, T ride or Uber trip away. While there are hundreds of great spots in Boston, these are a few that are essential for any BU student to explore. We present to you, the "student map" of Boston.
Allston
Ah, Allston — home to the majority of BU's fraternity houses and the party scene. The phrase "The Allston Crawl," where one walks around the Allston neighborhood in search of parties, has become both a meme and a lifestyle on campus.
Allston evokes mixed feelings for a lot of students. On one hand, you might be the fortunate one to find a good party on a Friday night. On the other hand, it is still Allston, regarded as one of Boston's younger and more "trashy" neighborhoods. You could be left wandering the streets with a group of friends until 1 a.m. before finally giving up and grabbing a mozzarella cheese stick pizza at T. Anthony's.
Fenway
If you want a quick trip outside the Commonwealth Ave. bubble, look no further than Fenway. Students can catch a Red Sox game for only $9 at Fenway Park. Or, if you are feeling like you want more culture in your life, students can get into several museums in the Fenway area for free with a student ID.
The Museum of Fine Arts has a large variety of permanent and rotating exhibits for every taste. Additionally, the Isabella Stewart Gardner Museum houses a beautiful indoor garden area, which doubles as one of the city's most popular photo spots, perfect for building your Instagram aesthetic. There is also a wide variety of dining options around Fenway — be sure to check out Saloniki for amazing, affordable Greek food and fresh pita bread.
The Regal Fenway Theater is a short walk from campus and has the fancy recliner seats for a normal-priced ticket. This theater always provides a student discount and often has festivals where students can watch multiple movies for a cheap price.
Back Bay
One word: shopping. Back Bay is home to both Newbury Street and the Prudential Center. Whether you want to update your wardrobe or window shop high-end designers (because everyone dreams of a pair of Gucci slides), Back Bay is the place to go.
For you out-of-state or international students who may be entering college with a concerning lack of winter clothing, bring a Massachusetts friend with you to the Nordstrom Rack on Boylston Street. They are sure to help you pick out all the essentials, and you will be able to pick up everything you need for a significantly reduced price.
When midterm season rolls around and you realize it might be time to hit the books, be sure to check out the Boston Public Library. It has beautiful study areas and is right next to some great restaurants, perfect for brain food.
Downtown
Boston is an amazing city, but sometimes you need an escape from the crowded streets. In such instances, head to the Downtown area and take a scenic stroll through Boston Common. Even though this giant park exists right in the middle of Boston, once you are there, it's easy to forget you are in a city
Right across the street from the Common is an AMC Loews. This theater is known for its midnight showings of "The Rocky Horror Picture Show" on Fridays. In true "Rocky Horror" fashion, live actors perform at the front of the theater, while the movie plays in the background. Whether you have never seen a performance or have been to a hundred, it is a guaranteed fun time over at the Frankenstein Place.
North End
If you do not already know about the North End, we are sorry: you have been missing out and must go there as soon as possible. There is good food all over Boston, but the North End has unbelievable, mind-blowing Italian food. We cannot hype this place up enough. This area of Boston is the best place to head for a celebration or when your family comes into town.
After dining at one of the many fantastic Italian restaurants, be sure to sample pastries from both Mike's Pastry and Modern Pastry. This long-standing debate is a favorite topic among Boston foodies. Can you even call yourself a real Bostonian if you do not have a strong opinion about which pastry shop is best?
Cambridge
OK, so Cambridge is not technically in Boston, as we here at The Daily Free Press know all too well, but it is still just as great of an area to visit. Harvard Square is the smaller, more intellectual cousin to Newbury Street. There are a ton of adorable, independent bookstores and artisan tea shops in the area.
Also, just down the street from Harvard Square is the notorious Veggie Galaxy. This vegan and vegetarian restaurant has a fun, 1960s diner aesthetic. Even meat lovers will love the delicious, all-day breakfast Veggie Galaxy offers.
After grabbing a bite to eat, students can take advantage of their free museum admittance. BU students get into all of Harvard's art museums for free with their student IDs. These museums are so cool, they almost make you want to like Harvard. Hey, we said "almost."
Brookline
Brookline is another area that is not technically part of Boston, but it's so close to BU's campus that we could not help but include it.
Students without a dining plan, listen up, because Brookline houses what is arguably the best Trader Joe's in the area. While the store on Boylston Street is small and cramped, this Trader Joe's is large and open with a ton of registers, so you never have to wait in line for long. It is also only a 10-minute walk from West Campus. The main selling point for this Trader Joe's, however, is that Girl Scouts are always stationed right outside during cookie season.
The historic Coolidge Corner Theatre also defines Brookline. This theater shows mostly independent films that are not regularly played in traditional movie theaters. Once a week, they also have midnight showings of terribly awesome B-movies like "The Evil Dead" and "The Room." This theater consistently ranks as one of the best theaters in the United States and is a home-away-from-home for many film and television students from BU's College of Communication.
While there is no possible way this article could have included all the fantastic places in Boston, it can act as a jumping-in point — a beginner's guide to the amazing city you will be living in.  Now, it is up to you to find your own favorite spots in Boston and to make your time here unforgettable.