By Jen Racoosin, Mike Reddy and Shaun Robinson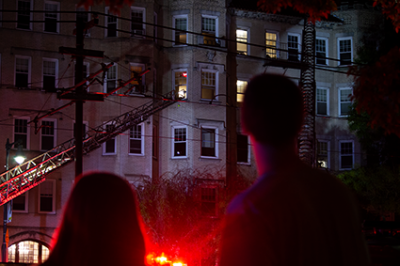 A fire at Boston University's 722 Commonwealth Ave. residence building injured one and resulted in temporary evacuations of surrounding 726 and 728 Commonwealth Ave. residences late Saturday night. The cause of the fire has not yet been confirmed.
The injured resident, whose identity was not released, was believed to have suffered "minor lacerations," according to BU spokesperson Colin Riley.
While residents of 726 and 728 Commonwealth Ave. were allowed to return to their rooms the same night, residents of 722 Commonwealth Ave. were escorted through the building to prepare overnight bags and instructed to find alternative places to spend the night.
Dean of Students Kenneth Elmore said that the policy which normally prohibits overnight guests in the first week of the semester would be relaxed for this emergency.
Elmore cited "basic safety issues" including a lack of power and water as the reasons for the temporary displacement and said that residents would likely be able to return by midday Sunday.
Juyoung Nam, a junior in the College of Communication and resident of 722 Commonwealth Ave., said he initially thought the fire alarms were just being tested, but evacuated the building when water began pouring into his room from an unknown source.
"I'm pretty sure my place is flooded," Nam said.
Several other residents voiced concerns about water damage to their rooms and belongings.
Riley said that fires like this one are rare. According to BU's most recent Security and Fire Safety report, 33 building fires occurred on the Charles River campus between 2014 and 2016, none of which resulted in injuries requiring treatment at a medical facility.
UPDATE 9/2 [3:51 p.m.]: According to a tweet from BU Housing, residents of 11 apartments at 722 Commonwealth Ave. are not yet able to return to their rooms . They will be put up at the Residence Inn in Kendall Square Sunday night.
Residents of apartments 104, 105, 106, 204, 205, 206, 207, 304, 305, 306 and 307 in 722 Commonwealth Avenue cannot return yet. They will be put up at the Residence Inn in Kendall Square, 120 Broadway, 6th St., Cambridge, MA.

— BU Housing (@BU_Housing) September 2, 2018