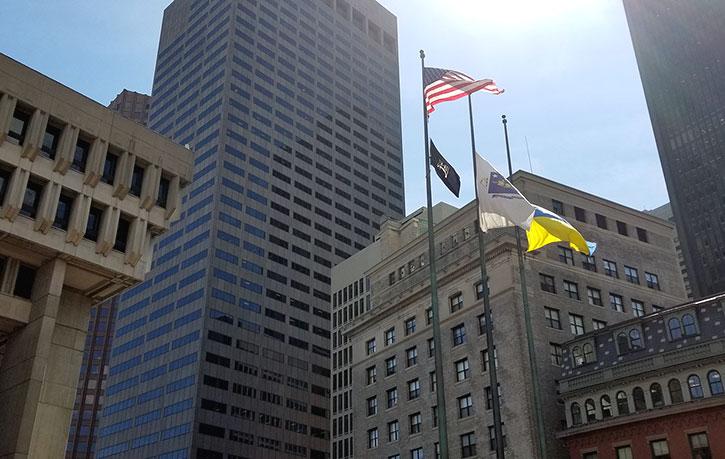 A federal judge ruled last week that Boston City officials were justified in denying a religious group's request to fly a Christian flag from a City flagpole. U.S. District Court Judge, Denise Casper, denied Harold Shurtleff's request for a preliminary injunction that would force the City of Boston to fly a Christian flag from a pole at City Hall Plaza.
The organization that Shurtleff directs is Camp Constitution, a Judeo-Christian organization dedicated to motivating "this generation of Patriots" and training "leaders in the freedom fight," according to the organization's website.
Shurtleff wanted to fly the flag on Sept. 17 as a part of Camp Constitution's Constitution Day and Citizenship Day, he said.
In an application submitted to the City, Camp Constitution wrote that the purpose of the event was to "[c]elebrate and recognize the contributions Boston's Christian community has made to our city's cultural diversity, intellectual capital and economic growth."
The City has no comment on the lawsuit or the ruling.
Shurtleff said Camp Constitution planned to have an instructor from South Sudan speak, along with a minister from Harlem.
"We were going to have [him] discuss the need for racial reconciliation of the church, so the Christian church can play a key role in racial reconciliation whether it be in our city or around the country," he said.
Shurtleff argued in his complaint that Boston frequently flies flags that depict religion, like the Portugal flag or the Bunker Hill Association flag.
Casper ruled that those flags were different than the one Camp Constitution desired to fly, which depicts a Latin cross.
"The Christian flag primarily represents a specific religion, while the other cited flags represent a sovereign nation, a City government and a group committed to remembering a military victory," Casper wrote in his statement.
The Americans United for Separation of Church and State agreed with Casper's ruling.
"Governmental bodies should never favor one religion over another or affiliate themselves with any faith," Alex Luchenitser, associate legal director at Americans United, wrote in an email. "Displaying a Christian flag on a city flagpole would convey a message that the City of Boston favors the Christian religion over all others."
Boston Commissioner Greg Rooney listed the same reasons for denying the organization's request in an email sent to Camp Constitution.
"The City of Boston maintains a policy and practice of respectfully refraining from flying non-secular flags on the City Hall flagpoles," Rooney wrote. This practice is "consistent with City's legal authority to choose how a limited government resource, like the City Hall flagpoles, is used."
Rooney also gave Camp Constitution the option for flying a different flag, writing, "The City would be willing to consider a request to fly a non-religious flag, should your organization elect to offer one."
The City of Boston argued in court that "the City would violate the Establishment Clause if it were to raise the Christian flag on the City flagpole," according to court documents.
Shurtleff said initial denial from the City came as a shock, but the recent trial results didn't.
"We were not surprised and, in fact, we expected the judge to deny the injunction, and at this point, we are going to appeal," he said.
While the organization had the option to get an emergency injunction, Shurtleff said it would not have given them enough time to properly plan something and they would not want the attendees who were traveling from long distances to get tickets only to have the event fall through.
A status conference is scheduled for Sept. 24, The Boston Globe reported.