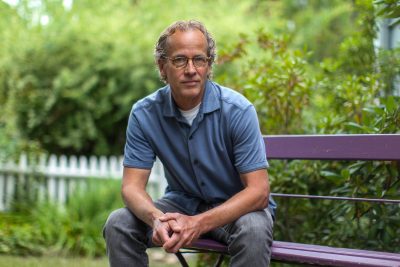 Students of journalism professor Dick Lehr watch him lecture and instruct peers each time they attend class, but they don't always see the professor's personal projects. Lehr published a young adult novel, "Trell," about a year ago, and soon his students and the public can see the story take on a new life as a film.
ToniK Productions acquired film production rights to his young adult novel "Trell" early last month. "Trell" follows the murder of a young girl and the wrongful imprisonment of a young father convicted as the murderer.
The novel was inspired by the real-life incarceration of Shawn Drumgold, a man who was wrongfully convicted for murder in 1989 and spent 14 years in prison. He eventually received a settlement of $5 million by the city of Boston after a Boston Globe article cast doubt on the validity of the conviction.
As a member of the Globe's Spotlight team in 2003, Lehr was one of the lead investigative reporters who shed light on Drumgold's conviction. Much of "Trell" is loosely based on his journalistic work on the case.
The story appeals largely to a young adult audience and is told from the perspective of a young African American girl.
Lehr has grown accustomed to the adaptation process. "Black Mass," a book he co-wrote on the infamous crime boss Whitey Bulger, was turned into a feature film starring Johnny Depp in 2015. In 2017, his book, "The Birth of a Movement" was adapted into an Emmy-nominated PBS documentary.
Lehr said he will be present throughout the development of "Trell" to give story-related input when needed, but he also understands that his role in the production of the film is relatively small.
"Each project can be different," Lehr said in an interview with The Daily Free Press. "I can't push and force myself on them. I'm not in control, they are."
Lehr explained that loss of control is difficult, but it's also a big part of what makes the whole process so rewarding.
"As long as [the filmmakers are] true to the story, it's a chance for a story that started with just me to reach a different and broader audience," he said. "The biggest thing is that you have to be willing to let go and realize that the book is the book, and that's mine. That's what I created."
While the director for the film has yet to be announced, screenwriter Jamal Joseph is set to adapt the novel for the screen. Joseph, a professor at Columbia University and an outspoken former member of the Black Panther Party, is a veteran filmmaker.
Lehr said he feels Joseph will bring a lot to the table. According to Lehr, he and Joseph met a number of weeks ago to discuss the pending script and watch "Chapter & Verse," a film Joseph wrote and directed. Lehr said he believes the film is in good hands with ToniK Productions.
"There's milestones, and one of them is having producers out there who want to actually make the movie, which is what we have here," Lehr said. "The next big step is getting a script, and that's underway."
"Trell" isn't Lehr's only work coming to the big screen. Lehr has another book becoming a movie soon. Jay Craven, an independent filmmaker from Vermont, is directing an adaption of "Judgment Ridge," a book Lehr co-authored with fellow BU professor Mitchell Zuckoff.
"It's a real wrenching, sad story, and we didn't want it to go to Hollywood," Lehr said. "We always felt committed to Jay's vision and his knowledge."
Zuckoff said they wanted to protect their story and approached a potential adaptation with caution.
"Dick and I are very much on the same page," he said. "We felt that putting this story in the wrong hands could result in the wrong messages. We trusted Jay to tell the story honestly, accurately and respectfully."
Zuckoff, whose 2014 book "13 Hours" was adapted into a Michael Bay blockbuster in 2016, said that the adaptation process can be extremely gratifying and rewarding as well as somewhat jarring.
"The most important thing is to work with people you respect and people who are going to respect your work," he said. "Sometimes you may be able to get a better deal or a better payday somewhere else, but the best thing you can do is partner with people that you can trust."
Lehr stays very cognizant of the fact that the path to a finished film is never quite the same. The future of Lehr's three current projects is uncertain — a year from now, they could be forgotten about or completed.
"It never stops being exciting," he said. "There's so many twists and turns, one step forward and two steps backwards. It's a real roller coaster ride, and until the day they actually start filming, it's not real."
Geneve Lau, a sophomore in the College of Communication, hasn't taken a class from Lehr, but said she felt his work had an impact on the COM program.
"I think that's amazing representation for BU staff," Lau said. "I wish I could say I'm surprised, but we obviously have such great professors here that this stuff happens often, as it should."
Kyle Davi, who graduated from COM in 2018, had Lehr as a professor. Davi wrote in a Facebook message that he felt no surprise when he heard about the upcoming movie because Lehr knows what he's doing.
"He's never afraid of a challenge, something which undoubtedly this will be," Davi wrote. "Lehr is an excellent writer, and a fantastic storyteller. If someone in Hollywood had the brains to get one of his novels on the screen, I have no doubt that it's going to be an excellent film."