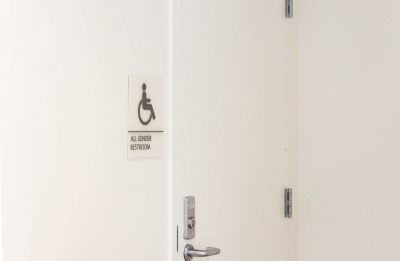 An independent architecture firm specializing in installing gender-inclusive bathrooms in pre-existing spaces will break ground on Boston University's first, specifically gender-inclusive bathroom in October.
The current plans for installation on the second floor of the George Sherman Union would cut the GSU operations desk in half and put two gender-inclusive bathrooms in its place, said Brian Stanley, internal liaison for the Center for Gender, Sexuality and Activism (CGSA).
CGSA Public Relations Coordinator Ethan Liu, a sophomore in the Sargent College of Health and Rehabilitation Sciences, said that the BU administration is planning to release a map showing all pre-existing, gender-neutral bathrooms on campus. Once the first bathroom is completed, it is their plan to continue the efforts across campus and finish roughly by the end of the 2018-2019 school year.
"We're just starting with the GSU first, and then we'll be moving off from there," Liu said.
The endeavor to add gender-inclusive bathrooms on BU's Charles River Campus has been an ongoing effort by different groups, Stanley said. The organization raised the possibility in a Student Government meeting as far back as 2012.
However, this semester is the first time those efforts have come to fruition, with plans for the construction of a gender-inclusive bathroom to start on the second floor of the GSU. This success comes as a result of a CGSA proposal which began in the 2017-2018 academic year, CGSA Transitional Liaison Rachel Bennetts said.
"I know that a number of proposals have been put forward by departments and individual students over the years, but whether or not that was coincidental, right as we started pushing for it, they finally started picking up the pace on the project," the CAS senior said.
Stanley and Bennetts brought the current proposal to the CGSA last school year, and from there to the administration. Besides working during the academic year, the CGSA's work on the issue continued through the summer, Liu said.
Along with advocating for gender-inclusive restrooms, the proposal included appeals to expand gender-neutral housing and to establish a standing committee for the LGBT community at BU.
Stanley said speed is something the gender-inclusive restroom project should prioritize, specifically as it pertains to the administration's proposed map.  
"… something like that should [be] online and accessible, and the sooner something like that gets done, the better," the CAS senior said. "… I don't want to wait seven years for all of [the bathrooms] to get done to get that map published."
Expansion across campus is vital to the project, Stanley said. As it currently stands, the CAS building has no gender-inclusive or gender-neutral facilities. Students wishing to use such a bathroom during class would have to travel to either the Law Auditorium or to the School of Theology.
The sooner resources are made available to students the better, he said.
Liu, who identifies as non-binary transgender, said that when it comes to transgender and gender-nonconforming students, having a gender-inclusive bathroom is a matter of both comfort and safety.
"[Having a gender-inclusive bathroom] makes it more comfortable, because I don't exactly feel comfortable in either specific-gendered bathroom," Lui said, "… BU is a pretty good, liberal campus, so I doubt it, but there can be safety issues."
Having a bathroom in which they feel safe is vital for students, Bennetts said.  
"Students should feel safe when using the restroom," Bennetts said. "In our proposal, we cited a number of different research projects and papers that showed that it has an immense psychological, academic and emotional effect on students who don't have a bathroom that they can use on campus."
Lindsay Child, a senior in the Wheelock College of Education and Human Development, expressed complete support for the project.
"I think it's so important because there are so many transgender and gender-nonconforming students on campus who really benefit from them," Child said. "It's a safety issue for these students, because so often there might not be any bathroom they feel safe going into, or if they went into the bathroom of their gender, then they would be treated with hostility."
Child made reference to the concern that bathrooms for transgender individuals could be dangerous.
"There's a lot of fearmongering about safety in bathrooms from people wanting to exclude trans people from the bathrooms of their identity," Child said. "But there's absolutely no basis for [that] … whereas it is definitely a safety issue for the trans person using the bathroom."