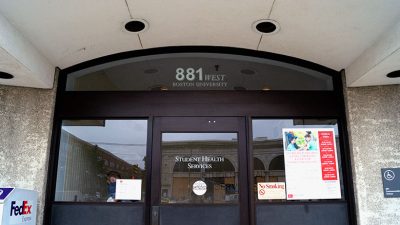 One in five college students have experienced thoughts of suicide in the past year and nine percent have made a suicide attempt, according to a study published Thursday out of Brigham and Women's Hospital.
Over 67,000 students at 100 colleges were surveyed for the study published in Depression and Anxiety, as reported by The Boston Globe.
Boston University professor Martha Tompson's research is on the family's role in treating mental illness, and specifically on working with children and adolescents. Tompson said she was unsure if the study's findings were really new.
"I think there's a lot of questions out there about the degree to which increases in depression and suicidality are new, or whether they are something that we are just more aware of now," Tompson said.
While people in general are reporting more stress, she said, specific factors add to college students' stress levels.
"I think there's a lot of social stress and academic stress that [students] are experiencing," Tompson said. "I also think that there has been a deterioration in the kinds of support available to young people, and that's a huge issue. So you get this convergence of more stress and lower social support and resources."
Boston University's Active Minds is a student group that aims to start conversations about mental health on campus. Vicky Karantonakis, president of the group and a senior in the Questrom School of Business, wrote in a Facebook message that the stressors described by Tompson can affect a student's academic performance.
"College is an extremely stressful time in a student's life that requires a lot of adaptation, changes away from home, making new friends, and many difficult academic assignments," Karantonakis wrote. "These all together can weigh heavily on a developing individual."
Such mental health stressors can negatively affect students' lives, Karantonakis wrote.
"Not only does this affect a student's performance academically, but it also affects their social ability to conform and feel comfortable," Karantonakis wrote. "Your overall ability to function is affected when your mental state is altered in a negative way."
The Brigham and Women's Hospital study mentioned increased reports of suicidal ideation and depression among LGBTQ students, which Tompson said likely comes from social isolation among sexual minorities.
The study outlined the possibility of under-reporting among racial and ethnic minorities, potentially connected to feelings of seclusion among these minorities in higher education, Tompson said. Only 6.9 percent of BU's class of 2021 were black or African-American, with another 12 percent self-reporting as Hispanic and 23 percent as international students.
BU needs to change the way mental illnesses are viewed on campus, Karantonakis wrote. She thinks a necessary step in helping students at risk is to remove the stigma surrounding treatment.
Tompson said she believes BU is doing a good job of supporting its students when it comes to mental health issues, but perhaps not enough students know about or feel comfortable seeking support at BU.
"Maybe we need to be better at encouraging students to take advantage of those resources," Tompson said.
The most important thing for students who are considering suicide or self harm to do is reach out and ask for help, from both friends and professionals, Tompson said.
"I think that sometimes suicidal thoughts or depressed feelings are a signal that we need to reach out," Tompson said. "And we need to listen to that signal, you know? Rather than saying you just need to try harder. That's a huge issue for young people, I think."
Campus services are available to help, Karatonakis wrote.
"Know that you are not alone." Karatonakis wrote. "There are people out there that want to help you get better. The best thing a student can do is to get help treating their depression or underlying problem, whether it be suicidal thoughts, stress, or anxiety, there is always a form of treatment to try and improve oneself. Contact your doctor or campus health service for help."
CORRECTION: A previous version of this article misspelled Karatonakis' name. An updated version of this article reflects this correction.