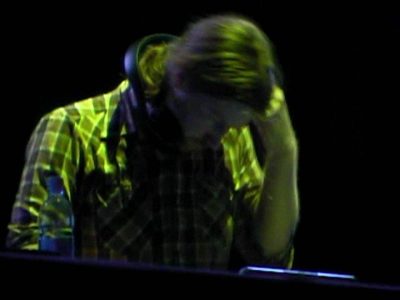 It's safe to say every fan of modern intelligent dance music owes Aphex Twin a debt of gratitude. Irish producer Richard David James was one of the founders of the genre and a trailblazer for ambient techno. In 1992, when his debut album "Selected Ambient Works 85-92" was released, the world was introduced to a whole new side of electronic music.
Instead of the groovy, synth pop-inspired electronic of Kraftwerk, "Selected Ambient Works 85-92" had an ethereal aesthetic. With now-antiquated musical equipment, Aphex turned monotonous loops into dreamy soundscapes. The influence of the album still lasts today, resurrected in different forms of music like vaporwave.
Aphex Twin was officially cemented in the musical history books in 2015 when he won Best Dance/Electronic Album at the Grammys for "Syro." But what's put into question with today's wildly varied electronic music landscape is his ability to preserve his reputation. 
In a 1996 interview on MTV, James confirmed he had around 150 hours of music, but he said it would "never all come out." More than 20 years later, the existence of SoundCloud, Spotify and other streaming services may disprove his theory.
In addition to posting songs on SoundCloud, he's released a handful of singles and EPs, most notably his 2016 EP "Cheetah EP." But all, if any, attention received by those albums didn't linger for too long. 
Perhaps his new "Collapse EP" will prove any doubts about Aphex Twin's legacy wrong. By today's standards, this EP is extremely outlandish. Aside from a consistent tempo, there is little discernible structure to any of the five songs on this 28-minute project. But what it demonstrates is an experimental side of electronic music that, in recent years, a major artist has not explored.
Because modern IDM is defined so broadly, it's helpful to look at Aphex Twin's older work. As soon as the opening track "T69 collapse" comes on, the drum pattern and fast-paced tempo evokes a similar feeling to his 1997 song "Flim." The difference, however, is that the synths are far less dreamlike or emotionally gripping, forcing the listener to focus on how varied the drums are.
It's clear Aphex is exploring more of the genre of Drill 'n' bass, a style of electronic focusing on fast-paced, intricate drum patterns.
Again, there is little structure to the songs on this EP. It sounds as though a child has just discovered music software and is scrolling through the different drum samples and putting together what they think works. There's a naivety to it.
Just before the halfway mark, the synths and drums are completely altered in an odd breakdown. It gives the impression that Aphex is having fun improvising with his equipment.
As soon as the next track, "1st 44," begins, this same naivety appears. With a vocal sample backing the track, Aphex Twin explores even more drums from his musical palette. He cycles through them like a madman as the vocal track intensifies.
What is notably missing from this album, however, is the Aphex Twin trademark air of strangeness. At points, his eccentric style is notable. The quirky vocal samples and odd track title conventions, like "MT1 t29r2," won't be found on many other modern electronic records.
But Aphex Twin is notably stranger than that. Before 2000, many of his album covers featured different unsettling images of his face, whether it be his face photoshopped onto a bikini model on "Windowlicker" or a profoundly creepy stare on "Richard D. James Album." Even his last experiment with drum and bass, his 1997 EP "Come to Daddy," conveyed a far more eclectic side of the artist.
Maybe James is rebranding the Aphex Twin name to make everything just about the music, but fans may still miss his old aesthetic.
Aphex Twin's legacy as an electronic music legend is still a bit tenuous. He may have almost two million monthly listeners on Spotify, but a majority of those listens come from just two songs, "Avril 14th" and "aisatsana [102]," both of which are acoustic piano lullabies.
Sure, he won't lose any of his niche fanbase to more accessible artists like Marshmello or Martin Garrix. But with more innovative artists like Jon Hopkins and Four Tet competing for listens from IDM fans, Aphex Twin has his work cut out for him. 
Perhaps this album isn't one that tries to get fans or the press anxious for future projects. What it says, instead, is that this music is the music that only Aphex Twin could get away with making. This EP is by no means revolutionary or notably innovative. But for his fans, this is the exact return to form they've wanted from one of electronic music's all-time greats.