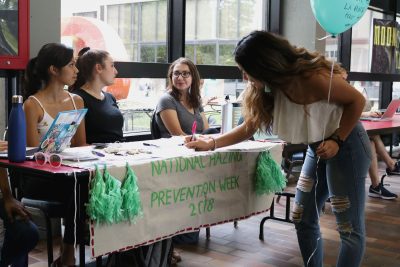 National Hazing Prevention Week has prompted members of Boston University Greek life to return to their tables at the George Sherman Union Link — only this time, the purpose is not to recruit members, but to raise awareness about hazing on college campuses.
An initiative of nonprofit HazingPrevention.org, National Hazing Prevention Week, which takes place Sept. 24–28, aims to educate students about the dangers of hazing and create a positive impact across universities.
Cameron Diep and Maddie Stephenson, sophomores in the College of Arts and Sciences and the College of Fine Arts, respectively, manned a GSU table Monday for their sorority Kappa Delta with a banner displaying the National Hazing Prevention Week cause.
"[The week] helps encourage people to join and helps make sure that they know there's nothing scary about rushing," Diep said.
Stephenson said she was nervous about hazing before she rushed Kappa Delta, but discussing the topic openly with her chapter made her feel more comfortable about joining, Stephenson said.
"Once everyone made it very, very clear that that's not what we're about, it was a lot easier to participate," Stephenson said.
Dennis Karpovitch, a sophomore in the Questrom School of Business and member of business fraternity Delta Sigma Pi, said he thinks that while most people don't know the details of hazing in fraternities and sororities, they know it occurs.
"I do believe there are a lot of social groups out there that haze without schools being absolutely aware," Karpovitch said. "And that's because most traditions are supposed to be secret and not told to anybody else. I think there's a consensus among college students that this kind of stuff does go on in Greek life."
Karpovitch said he thinks National Hazing Prevention Week's timing, when students are rushing fraternities, is optimal.
National Hazing Prevention Week officially takes place during the last full week of September, according to the HazingPrevention.org website, but universities are encouraged to work to prevent hazing every day.
"The ultimate goal is to prevent hazing," the HazingPrevention.org website states. "Strong education efforts, diligent policy development and reinforcement, and comprehensive planning and ongoing community efforts can do just that."
The Student Activities Office has developed a yearlong strategy in addressing the prevention of hazing, said John Battaglino, assistant dean of students and SAO director.
"Any effort to get people to recognize the consequences and challenges associated with hazing, I applaud, [but] one week isn't the focal point," Battaglino said. "We want all of our organizations to be able to come together and forge relationships with their members, but do it in a way that is respectful, in a way that certainly doesn't cross the line into hazing."
Each year, SAO hosts hazing education seminars, anti-hazing training sessions and one-to-one mentorships, Battaglino said. These opportunities aren't reserved to fraternities and sororities, but are available to members of all clubs and organizations on campus, he said.
"Oftentimes, the Greek letter organizations are associated with hazing," Battaglino said. "It doesn't necessarily just reside with the Greek communities, but with all of our clubs and organizations."
CFA sophomore Brittany Ficaro echoed Battaglino's sentiment. Standing at a GSU table Monday for her sorority Delta Delta Delta, she said that anyone can benefit from learning about the dangers of hazing.
"I think people need to be more aware of how to prevent [hazing] and know what's appropriate and what's not appropriate in other clubs as well, not just Greek life," she said.
In order to further spread awareness about hazing prevention, Ficaro explained that Delta Delta Delta has its members complete an online training course, similar to BU's required alcohol education course AlcoholEdu, called "Not Anymore," which covers hazing and sexual harassment, among other topics.
Emily Rose Chen, a Questrom senior and president of BU's Multicultural Greek Council, said that her sorority, Alpha Kappa Delta Phi, regularly hosts workshops on the subject of hazing.
"We have a national process which is approved by our national board and the school," Chen said. "It's a 100 percent haze-free process in which our new members become sisters. I think Boston University has taken great measures to raise awareness about hazing prevention. We have a lot of workshops that all the Greek councils participate in to raise awareness about hazing."