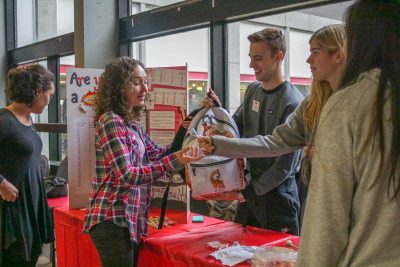 As Karen Jacobs drove her then-teenage children to school, she encountered an alarming sight. Jacobs passed a bus stop where she saw children messing around, and her eye went to their backpacks.
"The kid [got pushed and] fell backwards — he looked like a turtle," said Jacobs, a clinical professor in Sargent College and program director of Boston University's Occupational Therapy. "This gave me the idea that there was an issue."
She explained that this instance prompted her to create National School Backpack Awareness Day in 1998, when she was president of the American Occupational Therapy Association, Inc. National Backpack Awareness Day occurs every September and aims to address the dangers of heavy backpacks.
Students gathered in front of Sargent College Tuesday to take part in the day. Sargent College occupational therapy doctoral students organized the weigh-in.
Jacobs explained that "children report discomfort and pain regarding backpacks due to it being so heavy and carrying it long distance[s]." She said many students carry their backpacks incorrectly and stressed that heaving backpacks across campus doesn't "have to be an epidemic." People should learn to pack the bags the proper way in order to prevent injuries.
According to Jacobs, the correct way to wear a backpack is "a little bit below the waist, not any lower, creating a triangle shape." She recommended using features on a backpack, such as the hip strap, chest strap and padding on the back, as well as distributing the weight among the hips.
"For young children, we don't recommend having the name put on the backpack," Jacobs said, clarifying that it was for security reasons.
Living with the New England winter, Jacobs also recommended adding reflective material to the bag to be able to find it on the snow. She advised to pack the backpack the night before "with only what you need that day, the heaviest things in the back part, lighter things in the front."
Jacobs said she and her team commemorated the annual day with a few activities they organized, and they hosted the event at two other local schools, including public elementary school Jackson/Mann K-8 School and The Park School in Brookline.
As part of the event, she said that every year, they select a children's movie. This year, the movie of choice was "The Incredibles." After watching the movie, Jacobs said students create a skit to demonstrate backpack safety using the slogan "pack it right and wear it light."
Katie Riley, manager of media and public relations for AOTA, said that the association's objective is to raise awareness about potential damage caused by backpacks to children carrying heavy loads in their backpacks. Riley explained that the damage could cause pain that carries over into adulthood.
She said that she cannot stress enough that "the amount of weight put into it can be detrimental to the children's health."
According to Riley, a good rule of thumb to determine if a backpack is too heavy is to remember that a student should not carry more than 10 percent of their body weight.
The example Riley gave was that a child who weighs 100 pounds should not be carrying a backpack heavier than 10 pounds. She said that this was a helpful number since it was a tangible measure to understand.
"We want parents to be leaders in this," Riley said.
Around back-to-school season, AOTA has held a campaign to provide information about different types of backpacks so parents can pick which one is better suited for their children, according to Riley.
Riley said that one popular activity they do during the awareness day is a weigh-in at the school. The backpacks of the children are weighed, and they compare the contents of the backpacks to a checklist to determine which items are unnecessary.
If the backpack is at the correct weight, they check a green box, and if not, a red box. The handout is later sent home with the child with information about the dangers of heavy backpacks, encouraging the parent to take a more active role in packing their child's backpack, according to Riley.
Juliana Rodriguez, a sophomore in Questrom School of Business, said the issue is important to her because her dorm, Danielsen Hall, is far from campus. Rodriguez said she "usually [carries] all books and textbooks."
Rodriguez suggested a solution to heavy backpacks on campus.
"I think BU could have more accessible lockers," Rodriguez said. "That way students would not have to carry heavy backpacks."