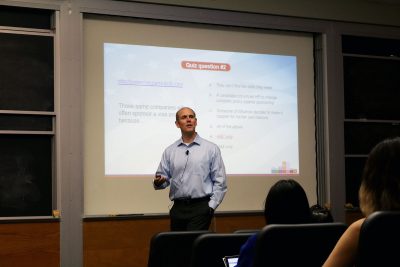 Nearly 10,000 international students attended Boston University last fall. Though they sat in the same classes and learned from the same professors as their American peers, foreign students may have to jump through extra hurdles if they want to work in the United States after graduation.
Dan Beaudry, author of "Power Ties: The International Student's Guide to Finding a Job in the United States," spoke to students at the Kenmore Classroom Building Wednesday. The talk centered around Beaudry's advice and strategies for finding jobs in the United States as an international student.
Beaudry spoke to the audience about the strategy of "informational interviews." He gained experience in the job search process when working as former campus recruiting manager for Monster.com, an employment website that helps individuals across the world find jobs.
An informational interview isn't a stereotypical "traditional" interview, according to Beaudry. Informational interviews are meant to establish connections and answer inner questions.
"[People ask], 'Where's my connection? What do I do at this point? How do I transform this intimidating networking scenario into something that's meaningful for me as a professional?'" Beaudry said during the presentation. "And my answer to that is something called informational interviews."
According to the website for University of California, Berkeley's Career Center, an informational interview is not an official job interview, but rather a casual conversation with someone knowledgeable about that line of work. These interviews do not center around potential job openings, but instead on research and advice given by the expert, according to UC Berkeley's website.
Beaudry, who previously worked as associate director of corporate recruitment at what is now the Questrom School of Business, described the two-prong benefits of informational interviews.
"With an informational interview, you're doing two things at once," Beaudry said during the talk. "The first thing is you're gathering information from an expert on the inside. At the same time, you're doing something subtler, but also very important, which is you're communicating to that person that you're looking for a job."
When asked what Beaudry wanted students to take away from his talk, he said he wished for students to take the plunge.
"I want people just to step in the water," Beaudry said in an interview. "Which means to get out there and meet people outside of the relationship of me: job seeker, you: manager. Get out there and make some connections and watch how these mechanisms in the hiring market operate on their own power. Let it suck you in."
Kayla Ring, assistant director of Graduate Affairs for the College of Communication, said in an interview that Beaudry's presentation was essential for international students anxious and nervous about the job-finding process.
"A lot of those students do want to work in the U.S. following graduation," Ring said. "I know that that involves a number of different steps for the international students. Having a presenter like [Beaudry], even though it's a one-time opportunity for students to come hear from him, it's definitely a good jumping off point for them to learn about the process."
Saiansha Panangipalli, a senior in COM from India, said although she wants to work in the United States, she has some doubts about it.
"[I feel] uncertainty, especially due to political upheavals and the tight restrictions," Panangipalli said in an interview. "Even if there's not been legislation yet, employers are becoming very wary."
Panangipalli said her hopes to work in the United States in the future were main sources of motivation for attending BU.
"If I had wanted to work in India, I wouldn't have come to school in the United States," she said.
Emily Li, a sophomore in COM from China, said she shares similar fears. However, Li said she was primarily worried about her lack of prior job experience, but she said hearing tips from Beaudry helped.
"I don't have really much prior … work experience that you can support in my resume, and I'm really concerned about it and whether it will influence whether I can get a job or not," Li said in an interview. "And maybe there is a language problem? Maybe some companies prefer native speakers?"