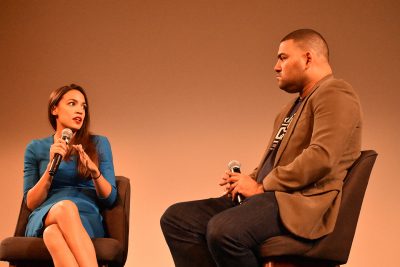 Over 440 people crammed into Brookline's Coolidge Corner Theatre to join Congressional candidate Alexandria Ocasio-Cortez (CAS '11) for a screening of "Fahrenheit 11/9" Monday.
The film, created by producer Michael Moore, explores events and actions he argued led to Trump's presidency. Ocasio-Cortez and her campaign were featured in the film, showing her grassroots efforts to win a Congressional Democratic primary in her home district in New York.
Ocasio-Cortez participated in a post-screening conversation with Raul Fernandez, a lecturer in the Wheelock College of Education and Human Development. Fernandez asked the congressional candidate about her political experiences highlighted in the film.
She recounted receiving immediate dismissal after expressing her interest to run. She was told to "go away — join your local Democratic club," but she refused to resign so quickly.
"I was guided by the fight for liberation of working class Americans," she said in the talk.
She said her constituency population consists of around 70 percent people of color, 50 percent immigrants and is "overwhelmingly working class."
Ocasio-Cortez won the Democratic Primary in New York's 14th Congressional District over House Democratic Caucus Chair and incumbent Rep. Joe Crowley.
On a platform calling for universal healthcare, gun control, housing as a human right and criminal justice reform among many other progressive stances, Ocasio-Cortez said she would "not back down from what's being called radicalism."
In the film, Ocasio-Cortez's campaign was highlighted for its bottom-up community organization. Her story was showcased alongside other progressive candidates such as Rashida Tlaib, a Congressional Democratic nominee in Michigan's 13th District.
After the conversation with Fernandez, attendees could ask questions at a microphone. A local community organizer asked about tackling urban environments, such as Ocasio-Cortez's, which deviates from standard grassroots practices like door-knocking. Ocasio-Cortez expanded on her divergent approach.
"People weren't answering their doors," she said, referencing "fear in these communities" of the consequences of opening a door to an unwanted confrontation with government officials.
She recommended meeting constituents where they frequent, such as in public places like a grocery stores. Her campaign utilized Outvote, an app dedicated to reverse voter searches where users can look up which of their friends can vote and can help share the campaign.
Due to New York election requirements, she could not count their votes without tying the constituents to a place of residence.
Ocasio-Cortez also said she wanted to recognize her own advantages.
"It became, for me, acknowledging where I have privilege," she said.
Ocasio-Cortez received the support of former President Barack Obama the morning of the talk as midterm elections draw closer.
While the film drew attention to Obama's responses to the Flint, Michigan, water crisis, Ocasio-Cortez said she needed to look at the endorsement from her political standpoint. She said her platform aligned with his decision to publicly come out "in favor of Medicare for all."
The screening was part of a Wide Lens series created by Fernandez with the Coolidge Corner Theatre and supported by a grant from Brookline Community Foundation.
Fernandez spoke about the collaboration behind the new program in an interview. He said the series screens "films that we think matter" and encourages attendees to "share their own personal perspectives."
"What I'm hoping is that BU students really get to thinking about what kind of impact they want to make in the world," he said about the program's impact.
Chris Addis (CAS '14), studied at BU at the same time as Ocasio-Cortez briefly and said he worked alongside her in the university's Howard Thurman Center for Common Ground.
Addis currently works as a legislative aide at the Massachusetts House of Representatives. As a member of the Democratic Socialists of America, Addis said he supports Ocasio-Cortez's commitment to housing and universal healthcare.
"[She is] committed to transforming the currently out of balance power structure," Addis said.
Coolidge Corner Theatre Program Manager Mark Anastasio said he supports the open conversations behind the Wide Lens program and that the discussions "needed to be had." Previous screenings for the program include "Get Out" and "Moonlight."
The creators "wanted to play new films fresh in people's mind" that are made by people "other than old white guys."
In a post-event interview with The Daily Free Press, Ocasio-Cortez gave words of advice to BU students hoping to follow similar steps.
"Go out of the bounds of your campus and organizations and get involved in your local community," she said.