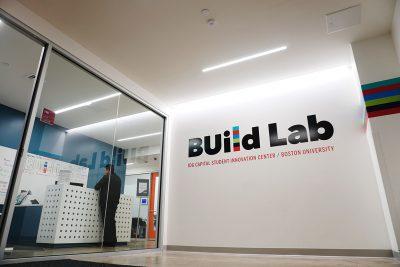 By Austin Cozzone and Julia Yang
[email protected] introduced a new program Monday called the Innovation Pathway, which allows aspiring Boston University student entrepreneurs and innovators to develop ideas, present them to professionals for feedback, and turn them into startups.
The Innovation Pathway is organized into four consecutive parts: Explore, Walk, Run and Fly, BUild Lab startup manager Shena Lohardjo said, and each phase consists of a series of steps to help students develop their own startups.
Eventually, Lohardjo said that students have the opportunity to pitch their ideas in front of a panel of BUild Lab-affiliated judges with business experience, who will offer feedback and judge whether the projects are eligible for funding.
Along with project feedback and potential funding, she said Innovation Pathway provides students access to resources and mentorship.
The program aims to give students focus in building their startups, Lohardjo said.
"We found that students who are building a startup, sometimes they're not sure where to start and they start to jump ahead instead of going through all the necessary steps," Lohardjo said.
Helena Gill, a freshman in the College of Engineering, said she thinks the Innovation Pathway could be better publicized, but the program itself could be a useful tool for BU students.
"I think that if students are interested in creating products, then that would be a very good way for the products to go under review before they continue," Gill said. "It would be a good way for BU to continue its student businesses."
The creation of the Innovation Pathway has been in the works for at least 18 months, [email protected] Marketing and Communications Manager Ahlea Isabella wrote in an email. BUild Lab Director Ian Mashiter started developing it by researching potential program models with students from the Entrepreneurship Club, Isabella wrote.
"Since launching [email protected], the rest of our staff, interns, and students have worked together to finish building the program and launching it," Isabella wrote. "It's been an incredible team effort and we're thrilled that so much of the work involved students, their input, and their oversight."
The Innovation Pathway can be a valuable experience for students whether or not they end up developing a startup, Isabella wrote.
"No matter what ends up happening with the idea and venture, students will learn innovation skills and build an entrepreneurial mindset through the process," Isabella wrote. "They can take those skills and mindset and use it in their career, on a different venture, and throughout their life."
Henry Zeng, a junior in the College of Communication, said he believes the new program could provide an experience classrooms can't replicate.
"[Students] can also gain a lot of experience from professionals, because it's something that you can't really learn from a classroom environment," Zeng said. "… they can get good feedback from people who are actually in the industry."
The Innovation Pathway could help BU draw in new applicants by showing how current students are able to put their ideas to practical use, Zeng said.
Angie Wijaya, a junior in the College of Fine Arts, said the program could have important practical applications for BU students in their future careers.
"I think it's just a great way to help students use what they learn at BU and apply it to something that they could potentially use for their job or they could make it into a reality," Wijaya said.