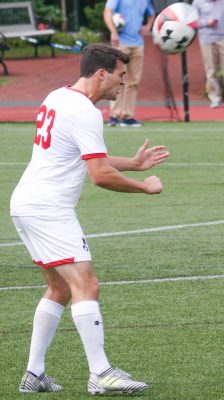 The Boston University men's soccer team will try to go on its first winning streak of the season this weekend against conference foe Lafayette College.
The Terriers (3-6-2, 2-1 Patriot League) are coming off a 1-0 victory on the road against the College of the Holy Cross.
In recent games, opponents had been able to take advantage late to break ties or score go ahead goals, but against the Crusaders (2-4-4, 1-1-1 Patriot League), the backline held strong and an early 1-0 lead was preserved.
BU head coach Neil Roberts was impressed with the improved play from his last line of defense.
"The guys did a good job of keeping Holy Cross in front of them, dealing with what they were doing," Roberts said. "It was a little bit predictable, so we knew what was coming. It was just a matter of winning those battles."
Senior goalkeeper Mike Bernardi registered five saves and senior defender David Riccio blocked a line drive shot to keep Holy Cross off the scoreboard late, giving Bernardi his first shutout of the season.
The lone goal on Wednesday came from freshman forward John Siracuse on his first career shot attempt.
Lafayette is going through its roughest stretch of the season.
Despite starting the year 4-2, the Leopards haven't won a game since Patriot League play began, going 0-2-1 with its sole non-loss as a tie against Holy Cross.
Even in defeat, Lafayette seems to be playing hard but coming up short. Despite its record, they are outscoring opponents 9-8.
Freshman goalkeeper Alex Sutton has been between the bars for every second of Lafayette's season, and with those eight goals allowed, he is tied for second among Patriot League goalkeepers.
The Leopards' top offensive player this year has been junior forward James Gibson, whose four goals led the Leopards. However, he has played in just six games this season.
Gibson played in the first five contests, and then returned for the game on Sept. 22 against Bucknell. Since then, he hasn't appeared on the field.
Since joining the Patriot League in 2013, BU has gone 4-1 against Lafayette.
Despite the success, Roberts isn't taking anything for granted.
"You get into these games, even last year and the year before, the points were tough to get against anybody," Roberts said. "It's not going to be any different. Lafayette needs the points, it's a crucial part of the season for them. It will be a very difficult game. If we can take some chances and score some goals, we'll be quite happy about it."