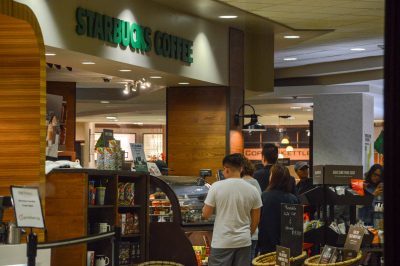 Several Boston University students are concerned about a Starbucks policy change that removed labels from the coffee shop's milk pitchers.
Many students learned of this change only after BU Dining Services responded to a tweet Tuesday from a student who wrote that she noticed the shared frothing containers for both dairy milk and almond milk at the Starbucks in the George Sherman Union.
"… it's concerning to watch the GSU Starbucks barista froth dairy milk and then use the same container to froth almond milk," Layla Hopkins tweeted, "As someone with a dairy allergy I would hope this could be avoided."
For students with lactose allergies, this updated policy presents a possible concern, because like all of their stores, the Starbucks locations on BU's campus now use shared pitchers to froth both dairy and nondairy milk for their beverages.
Coralee Snow, a Starbucks barista in Washington, wrote in a July 10 Facebook post that cross-contamination was still an issue before, but with the implementation of this decision, "… it is now completely unavoidable."
"We took off all the labels and now dairy, soy, coconut milk, almond milk, and other non-dairy liquids are no longer separated in different pitchers," Snow wrote in her post. "Starbucks made no official announcement about this on social media or in emails to rewards members or anything, so I'm doing my best to let you know."
Starbucks Media Relations wrote in an email that the decision to remove the milk labels from their pitchers was made in order to provide better transparency to their customers and partners about their use of shared equipment in beverage-making.
Starbucks baristas, they wrote, use a rinsed pitcher for each individual beverage that is made, but there is no guarantee that the pitchers are completely sanitized, even with a fresh pitcher to make the drinks.
"If a customer has questions or concerns, we advise them to ask their barista to remake the drink using a fresh pitcher," Alli from Starbucks Media Relations wrote to The Daily Free Press, "and to remember that this does not guarantee that the beverage will be allergen-free because we use shared equipment throughout our store."
BU Dining Services did not respond to multiple requests for comment.
Jess McGee, a sophomore in the Wheelock College of Education and Human Development, said she was concerned about how the policy would affect both vegans and students with dairy allergies.
"Someone might actually be allergic to something, and if they're not aware of that, then they could receive an allergic reaction, and then Starbucks would be held liable," McGee said.
College of Arts and Sciences junior Mary Dzyr said she doesn't consume dairy and is worried she might still find remnants of it in her Starbucks drinks.
"It's [kind of] upsetting because I actually don't eat dairy, so to know that there might be some in it that might be upsetting my stomach or something, I actually don't like that," Dzyr said.
People with severe food allergies should always assume their food may be cross-contaminated when dining out and inform food service workers accordingly, said Joan Salge Blake, a health sciences professor in the Sargent College of Health and Rehabilitation Sciences.
"If you have a milk protein allergy and it can't be cross-contaminated with a container that may have milk prior in it, you need to confirm that," Salge Blake said. "So, you always need to disclose that and you need to advocate for yourself on that."
Pamela Fourtounis, a senior in the College of Communication with a lactose allergy, said she thinks BU could do a better job communicating this to students who go to Starbucks locations on campus. At the very least, she said, BU could put up signs to warn customers with allergies to notify the staff to use a fresh pitcher.
"Starbucks is a corporation, so I guess that they want to streamline everything and make it easiest for them," Fourtounis said, "but I wish I didn't have to learn about the policy from somebody else tweeting it. Maybe BU should have notified the students, because it is something that could be of concern to a lot of students."
Julia Sullivan contributed reporting.