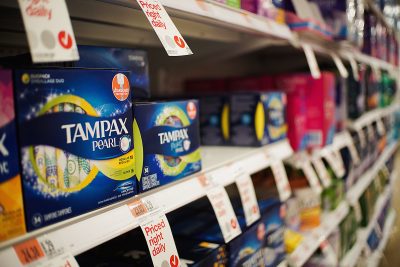 Two Boston University Student Government senators are spearheading an effort to install free menstrual product dispensers in every bathroom of the main College of Arts and Sciences building, with the eventual hope of placing at least one such dispenser in every building on campus.
Sens. Nehemiah Dureus, a senior in the College of Engineering, and CAS junior Hayley Gambone said that they have already secured preliminary support from the CAS Student Government for a semester-long pilot that will test the program's effectiveness and are currently awaiting approval from the administration.
The goal of the pilot program, Gambone said, is to evaluate how well the dispensers work and to determine how frequently they need to be refilled.
Gambone estimated the CAS student government-funded pilot would cost a total of around $5,000, which covers both the dispensers' purchase and regular replenishment.
"[It's] really a drop in the bucket when you think about the whole university's budget," Gambone said.
Right now, Gambone said she hopes that the university approves the pilot for this spring and that after the first semester, the administration will take financial responsibility for the project.
Dureus said the need for the university to provide menstrual products such as tampons and pads may even exceed the need for any other bathroom necessity.
"If it's your period for that month and you happen to not have a tampon or pad with you, then you're in a terrible position because you have to go home to get one … and where you are in that point in the day, it might not be an option to do that," Dureus said. "But [if] it was in a bathroom on campus, you can just go to the bathroom, do what you need to do and then resume your life."
Furthermore, Gambone reiterated the health benefits of guaranteeing access to these products for all women, regardless of ability to pay.
"It'll also make sure women are healthier," Gambone said, "because a lot of times, if you have an emergency and you can't treat it, you're at higher risk for infection, for example, because you then aren't wearing clean underwear or clean pants."
The BU administration has a responsibility to provide for its student's needs, Katherine Cornetta, the assistant to the dean of students, said.
"If this is a need of theirs and they think it should be filled, then we have to listen to it, and we have to find a way that we might be able to fill the need they have," Cornetta said.
Subsequently, because the proposal "has a lot of power behind it" stemming from strong support within the student body, Cornetta confirmed that Dean of Students Kenneth Elmore has already begun meeting with students and faculty to discuss the idea.
The proposal could help not only BU students, faculty and staff, Cornetta said, but visitors and guests of the university as well.
This is not the first time Dureus petitioned for the university to provide free feminine hygiene products to its students. His last online petition gathered over 1,600 supporters and was approved unanimously by the student government. However, in the end, the proposal did not succeed due to a variety of obstacles.
"There were issues with the new [student government's] E-board for the next year," Dureus said.  "Since it would be rolling over to the next year, they didn't want to go forward with it. And unfortunately, while the petition was successful, at the end of the day, the administration had the last say, and they said that they wouldn't allocate the funds to student government."
This time, however, Dureus said he is confident in the new plan's success. While the 2016 attempt was merely an extra addition to a larger program, the new proposal is a standalone initiative, he said.
Many students, like Caroline Pane, a freshman in the Sargent College of Health and Rehabilitation Sciences, said she was confused as to why the university has opted to supply some essentials while neglecting to provide pads and tampons.
"I feel like since all public bathrooms provide toilet paper and paper towels, it doesn't make sense that they don't provide something that's just as necessary for females all the time," Pane said.
CAS freshman Gerardo Rodriguez compared these feminine products with another item that the university provides to its male population at no price: condoms.
"I mean why not [offer tampons]?" Rodriguez said. "It's a healthcare necessity. BU offers a lot of free things … like they offer free protection, sexual protection. So I'm all for free products for women."
Sargent sophomore Heather Walter said she thinks that cultural stigma adds another layer of necessity to these period products.
"I feel like in society today, it's almost unacceptable if you free bleed," Walter said. "So I think that it is almost necessary."
Gambone reiterated that in order for this proposal to succeed, she and Dureus needed the support of the student body. They are currently encouraging students to sign an online petition for the proposal, which has garnered over 700 signatures as of press time.
"We want to show the administration that this is really important to all students regardless of gender," Gambone said. "It's not just the women who will be using the bathrooms in CAS."
Kylie Tomasiak and Shayna Scott contributed reporting.