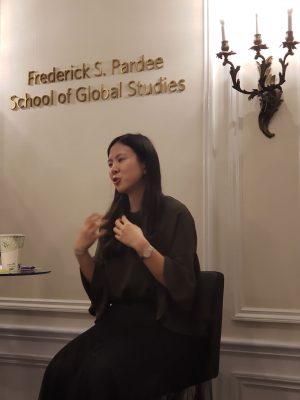 Monica Kang stood in front of professors and students alike Wednesday and told the students, in particular, to relax: bad grades won't end a career.
She explained step-by-step how to build a creative mindset and boost productivity at Boston University's Pardee School of Global Studies. Kang, who graduated from BU and the Pardee School in 2009, discussed her new book, "Rethink Creativity: How to Innovate, Inspire, and Thrive at Work." She said that embracing creativity fosters self-discovery.
Kang encouraged attendees to resist old-school work environments by injecting creative energy and passion into their daily lives. After being asked by an audience member for an example, she explained how adding an inspirational quote at the bottom of an email showed an individual's creative style and finesse.
When asked what she hoped students would take away from the event, Kang responded with a simple answer — freak out less, live more.
"One thing in particular is I hope students freak out less about their grades and focus more on their values and experiences," Kang said in an interview. "Yes, grades are important, but everything else is equivalent in the relationship that you build. … The team-building skills, the language learning, the study abroad … learning about all these things is very important."
Students may face pressure to focus most of their energy on grades, but Kang emphasized that there is more to life.
"Don't freak out that you don't have the right grade, don't freak out that you don't have your life put together," Kang said in the interview. "As a student, there's so many things that you can take advantage of, like take advantage of all the resources learning, the people you can meet, the relationships you can build, and capitalize on it to grow to be … the best version of who you want to be."
While she acknowledged that bad grades aren't what students desire, she encouraged students to embrace the punches and learn from their mistakes.
"'Maybe take this class that I get a poor grade, and I'm not going to be the job of like,' — yeah, but you might have learned something important," Kang said. "So ask yourself what are the things you really want to learn and be adventurous. Try more new things. Do not stay in just one bubble."
Eugenio Menegon, a professor of history in Pardee, said he has known Kang since she was a student. He said after her talk, he had a better understanding of the conditions for creativity.
"Creating the conditions for creativity, for example, for me as a teacher, is very important — is more important than even the result," Menegon said. "Unless you have those, you cannot leave the space like a plant to the water or soil for growing things."
Menegon said that he believed creativity was essential in education and academia. Professors should give time and space to students and allow a natural course of action to unfold, he said.
Teachers often become obsessed with sticking to a concrete plan, Menegon said, but sometimes straying from the syllabus is beneficial.
"I have to think about that one in teaching," Menegon said. "Sometimes it might be better to not."
Jeff Cunningham, 49, who received a master's in business from the Questrom School of Business in 2014, said creativity is the secret to breaking the mold. He said he was interested in purchasing Kang's book and implementing some of the suggestions she talked about.
"Using some of the tools to be able to break the mold that I am in," the Scituate resident said, "I am going to work the same way every day doing the same things, and I really need to change up my workspace and so on and just start reading and writing and doing things differently and think differently."
Stephanie Shaffer, 32, of Medford, said she also had a desire to learn about how she could bring more creative thinking into her daily life.
"There were definitely some great recommendations on a personal level from Monica that I appreciated, in terms of some life hacks and ways to incorporate into life," Shaffer said. "Coming from a consulting background myself and seeing that type of environment, it's hugely valuable."