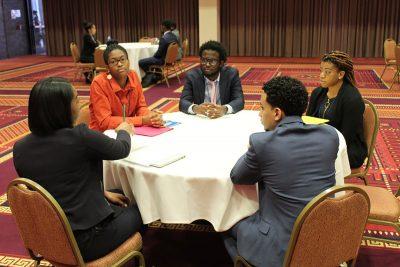 Black and Latinx undergraduate students traveled across the United States and Latin America to gather on campus this weekend for Next Wave in Business' inaugural "Breaking Boundaries" conference. The conference lasted from Friday to Sunday, and attendees assembled at various locations in Boston University's College of Arts and Sciences and the George Sherman Union.
The Breaking Boundaries conference consisted of a keynote address by Erika Lewis, co-founder of E.Z.Mo Breezy LLC and vice president of culture and marketing for Live Nation Entertainment, along with presentations by sponsors of the conference.
The weekend also included cohort training sessions and interviews with representatives from sponsors for internships or employment. Under Armour and U.S. Bank were founding partners for Next Wave in Business.
Tony Rice II, executive director of Next Wave, said the inaugural conference was an exciting moment for him and Chief Marketing Officer Kareem Edwards. Rice said he was inspired to create Next Wave when he conducted a speaking engagement in New York City.
There, he said he met an undergraduate student from Brooklyn, New York, who came from a low-income household and chose a school because it was close to home.
"[The student] had a full-time scholarship and was told that all you had to do was go to school, and you'll be able to see all these opportunities," Rice said.
However, the student didn't see the abundance of opportunities that others had mentioned, and he lacked a full-time job or internship.
"I was like, 'That's really unfortunate, maybe there's something that we can do about it,'" Rice said. "So I reached out to some friends, and we started this organization. And the conference, again, is our biggest keynote event. And this one is really, like I said, a culmination of all our hard work we've been doing."
During a brief pause in the scheduled activities Friday night, Edwards explained his vision for students who attended the conference and what he hoped they learned. In particular, Edwards delved into the idea of luck.
"The word luck is when preparation meets opportunity," Edwards said. "Now, [at the conference], you're meeting opportunity from different companies. Remember, they are very fortunate, you're lucky. When you put in hard work, you become lucky, so just be grateful, and then do what you do best. Be yourself and kill it."
Looking forward to future conferences, Rice said the organizers plan to establish the conference as an annual event, at least for the first three years as they grow.
"We're going to … move into more regional conferences, which is similar to our peer organizations before right now," Rice said. "Next year, we're talking around the same time frame, but likely in the Midwest."
Valeria Ospina, a sophomore in Questrom School of Business, said she was drawn to the conference to hear keynote speaker Lewis.
"[Lewis is] from Live Nation, and I want to do something that's like [that in] business and music," Ospina said. "I know that she's doing the marketing … so I want to talk to her about how she got introduced into a company that's music-based."
Sophia Dorsainvil-Johnson, a junior in the Wheelock College of Education and Human Development studying elementary education, said she attended Breaking Boundaries to explore career options and learn more about business and professional development.
"So I wanted to … get some more experience networking and interviewing and honing in on my skills for when I have to begin working with schools and working with adults," she said.
Dorsainvil-Johnson concluded that this was a great chance to learn and that it was an accessible opportunity because it was on BU's campus.
After hearing the advice and lectures from Breaking Boundaries, Dorsainvil-Johnson left with clear objectives to address in the near future.
"[I want] to make some more connections, maintain those connections and maybe find out some type of internship opportunity," Dorsainvil-Johnson said.
CORRECTION: A previous version of this article misidentified an undergraduate student as a medical student and incorrectly stated that Tony Rice II was inspired to create New Wave while living in New York City. Rice was there conducting a speaking engagement. An updated version of the article reflects this.