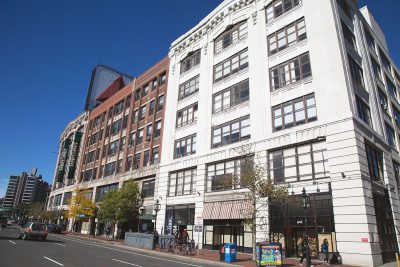 Boston University students have already felt the loss of Bertucci's and Bruegger's Bagels, and now, even more familiar Kenmore Square businesses will be disappearing.
The Kenmore Square branch of City Convenience shut down Monday, and Barnes and Noble will be relocating as changes and redevelopment come to Kenmore Square in the upcoming months.
Kenmore Square is being redeveloped by Related Beal, the Boston branch of the real estate firm Related Companies. According to Patrick Sweeney, managing director of the Boston-based company, the Kenmore Square area has a good transportation infrastructure and the company sees potential in the underused buildings in the square.
"We love Kenmore," Sweeney wrote in an email. "This project will further enhance the activity and prominence of Kenmore Square as one of Boston's centers of urban life …"
Construction will begin in early 2019 and is set to be completed by early 2021, Sweeney wrote.
The project was designed by architect Roger Ferris, Sweeney wrote. It will involve a variety of changes, including modifications of some buildings, rebuilding of different ones and the construction of a new 140,000-square-foot, eight-story building.
Some Kenmore Square tenants' businesses have relocated, Sweeney wrote, and Related Beal is helping other tenants find temporary or permanent placement.
Related Beal confirmed that they plan to preserve Boston's iconic Citgo sign above 660 Beacon St., which will be renovated and attached to the new Beacon Building.
"We were pleased that Related Beal and Citgo reached a resolution where the sign will remain in place for decades to come," Sweeney wrote.
The Kenmore branch of BU's City Convenience has already closed that branch of their store in preparation for construction. Scott Rosario, marketing director for BU Dining Services, said it will not be reopening or relocating after construction.
As BU already has City Convenience locations in Warren Towers, the George Sherman Union and Sleeper Hall, Rosario said there is little need to open another one.
"When you look across campus at the number of convenience stores that we operate that are available to students and accept convenience points, there are still a lot of options on campus," Rosario said. "We're not going to open one just for the sake of opening one."
College of Arts and Sciences sophomore Benjamin Wuesthoff said that while he was not personally affected by the closure of the Kenmore Square City Convenience because he lives in Warren, he has friends who were disappointed by it.
"It's very convenient if you live in Myles Standish or HoJo to get snacks or things like that when you're having fun or it's the weekend or something," Wuesthoff said, referring to the former Kenmore Square location.
The BU-affiliated Barnes and Noble at 660 Beacon St. will also be affected by the construction. The bookstore will close its Kenmore Square location so Related Beal can proceed with the redevelopment, BU spokesperson Colin Riley wrote in an email.
Barnes and Noble will open at 910 Commonwealth Ave. around March 15 of next year, Riley wrote. Until then, the location in Kenmore Square will remain operational.
Zoe Dewitt, a sophomore in the College of Communication, said the new location of Barnes and Noble, as well as the removal of the Kenmore Square City Convenience, will be inconvenient for her, as she lives in South Campus.
"It's closer to go to the bookstore [in Kenmore] than it is to go to West Campus," Dewitt said. "CityCo is convenient [in Kenmore Square] too."
Wuesthoff said he is unsure about the logistics behind Barnes and Noble's move to the new location.
"In between semesters, when people are buying all their textbooks and stuff, [Barnes and Noble] definitely becomes a real big hub of activity," Wuesthoff said. "We'll have to see how the new location works out for next semester when people have to get their books and things. If it's a big mess, then people obviously will be inconvenienced and annoyed."
CAS senior Isabella Medrano said the relocation of Barnes and Noble will affect the relationship between Boston University and Kenmore Square.
"I think that Barnes and Noble in Kenmore is really what makes Kenmore still feel like part of our campus, because I think that's the area of campus that we start really blending with the city a lot more," Medrano said. "Hopefully they'll move back to Kenmore, but I know the property is really expensive."
Jennifer Suryadjaja contributed reporting.