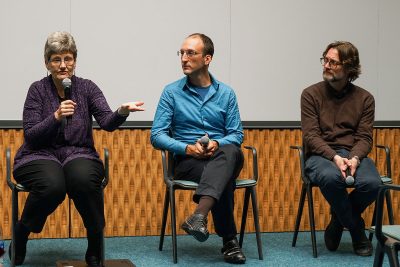 Students and Boston University community members gathered to view a screening of "The New Fire," an independent film directed by David Schumacher, and learned about tools to use in the future that could avoid global catastrophe.
The Institute for Sustainable Energy partnered with the Environmental Film Festival to co-host the Tuesday screening. The film shows the struggles of young entrepreneurs and engineers as they develop new technology and try to convince the public that nuclear energy is a safe option.
A panel discussion was held after the documentary about next-generation nuclear reactors and the potential to lead an energy revolution against climate change.
Held in the Rajen Kilachand Center for Integrated Life Sciences and Engineering, the event was free and open to the public. Introductions to the screening were provided by Peter Fox-Penner, director of ISE and a professor in the Questrom School of Business.
French Environmental Fellow at the Harvard University Center for the Environment Michael Ford moderated the panel. Speakers included Schumacher, Lisbeth Gronlund, co-director of the Global Security Program for the Union of Concerned Scientists, and Michael Short, assistant professor of nuclear science and engineering at the Massachusetts Institute of Technology.
According to Fox-Penner, the discussion aligned with the ISE's mission to establish a sustainable energy future "through cutting edge research, engagement with industry and policy makers and educating students."
"We are working on many different dimensions of the sustainable energy challenge," Fox-Penner said. "They touch on all the major disciplines we have at BU, from law to public health to engineering to business to international affairs."
The United Nations' Intergovernmental Panel on Climate Change released a Special Report 15 Oct. 8 and warned that by 2040, the world is likely to experience crisis if temperatures continue to rise at current rates.
"We need to cut our greenhouse gas emissions dramatically over the next 10 to 20 years to avoid very dangerous impacts from climate change," Fox-Penner said.
While greenhouse gases are released through manufacturing nuclear plants and fuel, there are no direct emissions from the production of nuclear energy, according to "The New Fire." According to the film, nuclear energy is considered to be "base load," meaning it can be produced at any time.
Engineers featured in the film are reimagining conventional nuclear technology to increase safety and efficiency. According to the documentary, most nuclear plants in America operate on light water reactors, which use high-pressure liquid water as a coolant and moderator.
If the cores overheat in these reactors, nuclear meltdowns are possible, as seen at Three Mile Island in 1979 and Fukushima in 2011.
In the event of an accident, these reactors would cool down automatically without human intervention, as explained in the film.
The film also explained that next-generation reactors may also address the issue of nuclear waste storage by recycling existing stockpiles of waste as fuel. In the panel following the film, Short said this technology is already being used in France.
However, this technology is not permitted in the United States, largely due to fears of proliferation, as explained by Short.
"There's a whole generation of people who grew up doing duck and cover drills and had fears of nuclear winters and went through the Cuban Missile Crisis," Short said in an interview. "You can't blame them for having this really deep fear of nuclear, but it's unfounded."
The safety of nuclear energy can be numerically quantified compared to other power sources by looking at the number of deaths each source has caused and the number of terawatt hours the source has produced, Short explained.
According to a 2007 study published in The Lancet, nuclear energy was responsible for 442 times fewer deaths relative to brown coal per unit of energy.
"This is really eye-opening and wonderful to hear. My whole perception of this was turned upside down," said Taryn Polanco, who graduated from BU's College of Arts and Sciences in 2015 and attended the screening. "I'm definitely supportive of nuclear for keeping our energy levels up to supply everyone and for keeping emissions down."