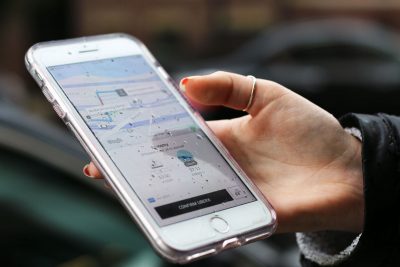 Boston taxi companies have seen their business continue to plummet over the past few years, largely due to the rise of ride-sharing services such as Uber and Lyft.
Bostonians have lauded the apps for helping them move around the city for less money and in a shorter amount of time.
Grace Mariappan, 55, of Medford, said these reasons are also why she prefers taking Ubers over taxis.
"The taxis are not good at all. So that's why they developed the Uber. That's why the Uber is [taking] over the place," Mariappan said, "Taxi is not reasonable. They don't come on time. They won't go straight the way we ask them to go … sometimes, I take [a] taxi, and it's $40, $50, and I cannot afford [that]."
More than the cost, Jim O'Connell, a Boston University professor of city planning and urban development, said he believes Uber and Lyft have thrived in cities due to the innovative way they connect the same services taxis provide to one's phone.
Uber and Lyft, O'Connell said, allow one to get all the information about their trip length, price and availability at their fingertips.
"When you get in a taxi cab, you don't know what it's going to cost," O'Connell said. "When you're trying to hail a taxi cab, you don't know when it's going to come. I think that that has been a real inconvenience for a lot of people."
Alix Anfang, communications manager for Uber, referred to the service as "one piece of the transportation pie" in Boston.
"Uber helps fill gaps in communities that lack convenient access to the T or where taxis are [hard] to find, helping people affordably and reliably move around the city," Anfang wrote in an email.
Randy Martin, 54, said he has seen the prominence of Uber, not just in transportation, but in many other aspects of daily life.
"There's McDonalds down by where I live that Uber has taken over," Martin said. "They close the restaurant down and just use it for Uber deliveries at night. They just open up the lobby of the restaurant for Uber drivers who are doing UberEats."
Along with the taxi industry, public transportation has also taken a hit from the advent of ride-sharing. Louisa Gag, public policy and operations manager of LivableStreets Alliance, wrote in an email that ride-share services have a great deal to do with cost.
"Especially with 'pooling,'" Gag wrote, "the cost of an Uber/Lyft ride might be comparable to a T fare."
O'Connell and Gag agreed that Uber tends to beat public transportation with its door-to-door, on-demand service. Public transportation, O'Connell said, must follow a set track that does not reach every place citizens want to go to.
"There are places that are not that well served [by buses and trains]," O'Connell said, "and they're really ideal, in that regard, for Uber to come in and take you to any place you want to go at any time of day, fairly expeditiously."
While residents might benefit from catching Ubers, a report from the Metropolitan Area Planning Council found that the city has been suffering from this switch. According to the report, the average ride-hailing trip represents 35 cents of lost revenue for the MBTA.
Efforts to combat these issues have been put in place by the Massachusetts government. Gov. Charlie Baker signed a law in 2016 issuing a charge of 5 cents per ride to be given to a taxi innovation fund. Similarly, Gag explained that Mayor Martin Walsh's Go Boston 2030 program aims to address traffic and safety issues, which arise from the influx of ride-sharing in the area.
"Creating designated pick up zones and training drivers on how and where to safely pull over will prevent drivers from blocking bus and bike lanes, double-parking, and suddenly stopping or pulling over," Gag wrote, "all of which both create huge safety hazards and gum up traffic flow."

MAPC has estimated that 15 percent of ride-hailing trips are taken during rush hour by people who would have otherwise used public transit. This has implications of traffic congestion, air pollution and dangerous emissions, according to Gag.
Tracey Ganiatsos, spokeswoman for the Boston Transportation Department, said she thinks ride-sharing, taxis and public transit systems need to be improved to create a more cohesive experience for Boston travelers.
"We will continue to work on the many policies and projects outlined in Go Boston 2030 that will improve transportation access citywide," Ganiatsos wrote in an email, "with emphasis on enhancing and expanding our network of streets that welcome pedestrians, cyclists and public transit riders."
O'Connell said he hopes Boston can eventually find an apt solution to integrating the technology into the city more seamlessly.
"They say this is going to be the way of the future, and everyone is going to be taking Uber and Lyft, and it's going to make it easier to get around," O'Connell said. "But if it creates more traffic jams and other problems, that's not a plus."