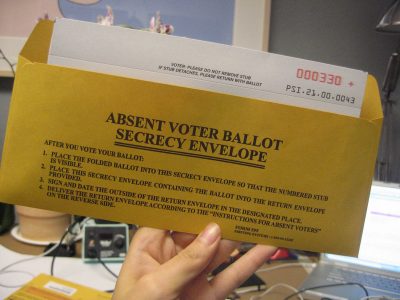 By Conor Kelley and Ayodele Abinusawa
Several Boston University students from Florida and various other states reportedly did not receive their requested absentee ballots for the 2018 midterm elections.
Florida had higher rejection rates for ballots cast by mail than by ballots cast at a voter's precinct during the 2012 and 2016 general elections due to a lack of uniformity regarding the vote-by-mail process across the state's 67 counties, according to a September report by the American Civil Liberties Union of Florida.
In addition to rejection, a recent issue has been the lack of requested absentee ballots actually arriving to Floridian students. Florida resident Sofia Moffat, a junior in the College of Arts and Sciences, said she was unable to vote in both the 2016 presidential election and this year's midterm election because she never received an absentee ballot.
"For this election right now, I requested my absentee ballot way before the deadline, probably like five weeks ago I did, maybe six," Moffat said, "and it never showed up."
Many other Floridian students Moffat knows also did not receive their absentee ballots, she said.
Boston Elections Commissioner Dion Irish said that oftentimes undelivered ballots are a result of incorrectly addressed mail. In the most recent election, the department mailed out 9,000 ballots but only received 7 percent back, he said.
"If a request is made early and timely, then we're able help them and work through those issues," Irish said.
The elections department is always working to improve their service, Irish said, and maintain communication with voters and the United States Postal Service.
Nicole Barradas, a sophomore in the College of Communication as well as a Florida resident, said she received her ballot the morning after the elections concluded.
"I requested online about two and a half weeks ago, and then in Florida we have to send in a signed affidavit, so I sent that about two weeks ago," Barradas said. "It came in this morning, November 7th, not of much use to me."
Barradas said the slim margin of victory for both the Senate and gubernatorial races in Florida was a point of annoyance and frustration for students hailing from the state, as their votes could have made a difference.
"I was obviously very upset by it because Florida is such an important swing state, and the fact that it was such a close race, to not have the ability to give my input in was just heartbreaking," she said. "I wish I was able to have a say, and I feel like that right was taken away from me."
BU spokesperson Colin Riley said that the BU mailroom usually delivers mail within 24 hours of receiving it from the United States Postal Service, if it is correctly addressed.
"If someone didn't [receive a ballot] that's unfortunate," Riley said, "but I don't know that there's been any larger problem."
Several students hailing from other states also grappled with the issue of not receiving an absentee ballot.
Allyson Painter, a sophomore in the College of Arts and Sciences, who is a Georgia resident, said many Georgia voters faced issues casting their votes.
"A ton of people were getting back something saying they had a mismatched signature on their absentee ballot," Painter said. "Several people were just completely denied altogether with absolutely no reason given. I just never received my absentee ballot. I'm not really sure what the reason is."
Painter said Georgia's gubernatorial race was "crazy," because the incumbent, Secretary of State Brian Kemp, who is in charge of the election process, was also a candidate.
CAS sophomore Amy Argentar, who is from Illinois, said she is frustrated that the Chicago Board of Election Commissioners did not process her ballot request even though she had registered in October. Argentar said that her state recommends registering 60 days before an election, but that it is not required, and that she registered before the official deadline.
"Since I [registered] before the deadline, [the Board of Election Commissioners] should've done their job and gotten [the ballot] to me," Argentar said, "because it's not like I ordered an Amazon gift."