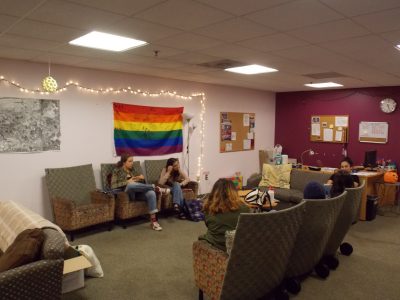 Boston University's Center for Gender, Sexuality and Activism is holding drives for homeless youth and foster children this holiday season.
The first is a clothing drive for Youth On Fire, a Cambridge drop-in center for homeless LGBTQ youth. In addition to the clothing drive, the center is holding a "sponsor a child" fundraiser in which clubs, organizations and individuals can donate money to provide gifts for children in foster care.
CGSA Public Relations Coordinator Cassandra Kalman, the main organizer of the clothing drive, said she thinks the drive will have a positive impact given the approach of winter.
"I figure now is a good time now that it is getting cold," Kalman said. "So maybe we can get them some nice, warm winter clothes because they desperately need them."
The CGSA recently held a drag show to raise money for Youth on Fire, Kalman said, prompting her to think of other ways to help the organization. One of the center's directors suggested a clothing drive, she said.
A donation box for the drive is in the CGSA office, located in the GSU basement.
Nate Grein, a case manager for Youth on Fire, said that clothing donations, especially items like jackets, sweatpants and long underwear, are important for homeless people in cold weather because they spend a lot of time outdoors. He also said new clothes can have mental benefits as well as physical.
"Having new, clean clothes that haven't been worn for weeks on end is also really beneficial for just feeling comfortable and feeling like you are outside and you don't necessarily look homeless," Grein said. "That's a really big deal. Between those two things, it matters, it really matters."
CGSA PR Coordinator Drew Powell wrote in an email that he thinks the drive is important because people tend to take warm clothing for granted.
"Many times when we think about homelessness our first thoughts are shelter and food but theres also a need for clothing especially considering Massachusetts weather," Powell wrote.
Powell wrote that he hopes the clothing drive will make the BU community aware of the needs of others living on or near campus.
Samantha Nelson, a freshman in the Sargent College of Health and Rehabilitation Sciences, said she thinks the fundraising initiative is a great way to get the community involved and that students can participate even beyond donating clothes.
"I think students can be involved by donating clothes, encouraging others to donate their clothes, and rais[ing] awareness on the issue through social media and by word of mouth," Nelson said.
Grein said people can help the homeless by working to remove the stigma associated with homelessness, even if they can't provide financial support.
"Even if you don't want to contribute to them financially, just looking them in the eye saying, 'Sorry, I don't have anything, I don't have any cash on me, but have a good day.' That makes an absolutely massive difference," Grein said. "It's that repeated dehumanization and people looking away and not even looking at these folks that can really have the type of devastating consequences we see a lot."
Philip Wang, a sophomore in the College of Arts and Sciences, said he thinks the initiative is a good idea, but that it would be more helpful in less affluent districts.
"I think there is more work to be done in other areas, in Roxbury, in South Boston and in other poor areas," Wang said.
The sponsor a child fundraiser is through a charity called Massachusetts Wonderfund, said Rachel Bennetts, a CGSA member and organizer of the fundraiser. Wonderfund sends a list of children each participant will sponsor, Bennetts said, after which participants use the funds they have raised to buy and wrap gifts. The charity then picks up and delivers the gifts.
Bennetts said she thinks BU students should recognize they are part of a larger city and give back to the community.
"I think it's really important that we all give back, and I think the holiday season is a really great time to do that," Bennetts said. "There is a lot of pressure and buildup around the holidays, so even just knowing that one kid who really deserves a gift will get one — it's really rewarding, and it reminds me of what this is about."
Bennetts said she hopes as many people as possible donate.
"I think this is something that is really applicable to individuals, but also every academic department, every club, every organization," Bennetts said. "I think this is all something they can get involved in to give back, and I think it fits the mission of any and every club on campus."
Antonia Araya, a freshman in the Questrom School of Business, said she has participated in drives similar to the CGSA's in the past. She said she thinks they are a good way to help people during the holiday season.
"I personally did food drives and clothing drives for the holidays all through high school," Araya said, "and to know that there's a chance for me to do that throughout college is special."