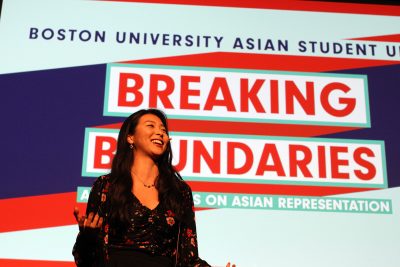 From the release of "Crazy Rich Asians" to the Netflix original "To All the Boys I've Loved Before," 2018 has seen popular movies with Asian-American leads gain followings and rave reviews.
Boston University's Asian Student Union hosted its second annual "Breaking Boundaries" speaker series. ASU invited four speakers from the Asian-American community — rapper and YouTuber Timothy DeLaGhetto, Buzzfeed video producer Kane Diep, comedian Kristina Wong and BU College of Fine Arts alumna and actress Ami Park — to tell their stories Friday.
According to Sharena Cheng, ASU's community service chair and a senior at the Questrom School of Business, the series is an effort to raise awareness about Asian-American issues.
Cheng said one of the of the biggest challenges Asian-American Pacific Islanders face is a lack of equal and accurate representation in the media, particularly on the big screen.
"What we see matters," she said. "We're not this one-dimensional character that can be played off of stereotypes. We don't all just share one story. Each individual story is important, and it starts with representation."
The speakers addressed a lack of role models in the media for Asian Americans to look up to and the risks this posed to developing a secure sense of identity as member of a minority group.
Ami Park, based in Los Angeles, California, and known for her role in show "This is Us," said she subconsciously imitated the only Asian-American female character she saw on TV while growing up — "London Tipton" in the Disney Channel show "The Suite Life of Zack and Cody," portrayed by actress Brenda Song.
"We all have our fair share of identity crises," Park said. "Who am I? What am I? What is my role as an Asian American? There wasn't that much diversity in roles, so I had a really hard time understanding who I was supposed to be."
Both Park and DeLaGhetto spoke about actively refusing roles that demanded them to fake an accent that wasn't important to the content of the character.
"If it isn't serving something, I don't want to do an accent," Park said in an interview. "I don't want to tend to anything that is a stereotype."
Park said problems regarding proper representation for people of color are not only present at the national level. According to the BU alumna, this inequality is present even in the College of Fine Arts.
Park, who graduated in 2016, said she was the only Asian female in her class as an undergraduate studying theater arts. She said that although she had a positive experience when it came to casting, it was not the norm.
"I was really lucky," Park said. "I was always one of the leads. That's not how it was for most people of color. They were always the ensemble, playing slaves, playing the backup, playing the voiceless."
Many of the speakers, including Park, emphasized the role of the Asian American community in helping them find their way. That community can be physical, through organizations such as the ASU, or found online in social media.
"I have this beautiful network of people who are so genuine and grounded," Park said about the online community. "I was able to heal through other peoples' stories."
In addition to "Breaking Boundaries," ASU holds other talks to "inform the student body of social justice matters that are relevant to our world today," according to their Facebook page. Their #IsThis2017 photo campaign, a spinoff of the #thisis2016 video by The New York Times, focused on people's experiences of stereotypes and encounters with microaggression.
Marcia Ma, an attendee at the talk and a student in the College of Arts and Sciences, wrote in a Facebook message that listening to the speakers got her to start thinking about the importance of Asian-American Pacific Islander issues.
"[In the] Asian community, it's … very important for us to be united together, to support each other, and to be there for each other," she wrote. "We have our own identities, we are unique. It's time for us to speak up, to show who we actually are as Asians."
According to Park, the Asian American community has made remarkable progress in 2018. She said it shows just how powerful the effect can be when people stand together and demand to be heard.
"I've realized how strong we actually are when we group together," she said. "'That voice is stronger than just one. This year was fundamental for us, so many movies have come out that are celebrating who we are as individuals, but that only happened because we demanded it."