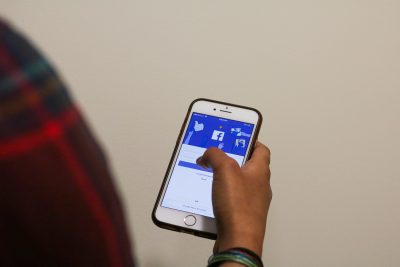 The holiday season is in full swing, and tens of millions across the country are racing to purchase gifts. Along with the increased festivities comes an increase in scams, including ones unique to social media.
One of the popular scams surfacing on Facebook and Instagram users' feeds is the "Secret Sisters Gift Exchange." This scheme promises participants an abundance of gifts in exchange for them sending a single one out.
"I think [scams] tap into people's naivety," said Catherine Fazio, a markets, public policy and law lecturer in Boston University's Questrom School of Business. "People are more susceptible during the holiday season."
In the scam, users add their names and addresses to a list, purchase a gift worth between $10 and $15 and send it to another individual listed. They then are promised multiple gifts in return within the next two weeks of sending one out.
This gift exchange is part of an illegal pyramid scheme, which according to the Federal Trade Commision, "promise[s] consumers or investors large profits based primarily on recruiting others to join their program, not based on profits from any real investment or real sale of goods to the public."
"As more investors pay to join, the money paid by the newer investors goes to older investors," said Kabrina Chang, a clinical associate professor of markets, public policy and law at Questrom.
In the "Secret Sisters" case, the investor is the participant who buys the gift. Because the scheme promises large profits of gifts to participants and only functions if people are recruited, it violates federal law, according to the FTC.
"Because there is no actual investment, the success of the scheme depends on always bringing in new investors and their money," Chang said.
According to Snopes, very few participants commenting on online forums on the exchange said they received gifts, and those who did often found a single gift waiting at their door. Snopes had not found any user comment accounts that could attest to the promised abundance of Christmas gifts in exchange for sending a single one.
Snopes reported scams may give instructions to participants, such as copying the secret sister post to their walls, and then "Soon you should receive 36 gifts! What a deal, 36 gifts for giving just one!"
Fazio said one way to prevent this scam from spreading is through reporting and education.
"News articles get the word out that these scams are happening, and what signs to look for can be very helpful," Fazio said. "I know the Federal Trade Commission and the FBI and several state attorney generals all have pages on their site that report common types of scams."
The scam began appearing on social media users' feeds as early as 2015, according to Snopes. Three years later, it is still commonly shared on sites such as Facebook and Instagram.
"I've always been pretty alert whenever I see something suspicious, but I definitely have fallen for one or two in the past," said Ellen Mak, a senior in the College of Arts and Sciences.
While Mak did not partake in the "Secret Sisters" scam, she said she has fallen prey to other email and social media scams. Those experiences left her all the more cautious when it comes to online offers, she said.
Yet, she said she recognizes that she falls in a demographic vulnerable to online fraud.
"Definitely as a college student, whenever you see something free or a good deal, you usually jump on that," Mak said. "But I know other college students heard stories like that [Secret Sisters scam] happening. People are more alert now, but I definitely feel like college students are susceptible to falling for that."