Students took advantage of a leisured syllabus week by attending Terr Up the Ice Free Skate Saturday. After the Boston University versus Arizona State hockey game, these students took to the ice themselves for an evening of skating and laughter.
This free ice skating event at Agganis Arena was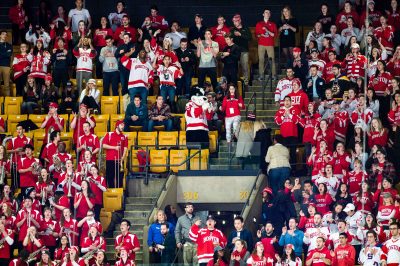 just one of many activities included in the Winter Weeks of Welcome put on by the Student Activities Office for BU students.
Xenia Vrettakou, a sophomore transfer student in the College of Arts and Sciences, said she left the ice skating with renewed energy for the upcoming spring semester.
Vrettakou said she was grateful for the series of activities during the Weeks of Welcome. She said last week's events — including the free skating — exposed her to the school spirit and were an opportune time to forge new friendships.
"It's a thing really clever from the school's side to do that because, OK, we have the clubs and the organizations, but we don't all have the same interests," Vrettakou said. "Events like this bring us together."
The 2019 Winter Weeks of Welcome activities also included Terrier Trivia, Smores Indoors, Silent Disco, Art á La Carte, 1st Day of Classes Festival, Splash 2.0 and Legos and Eggos.
Students competed for prizes, devoured s'mores over an indoor fire, capered to their own music with headphones, painted personal creations, started class with cocoa and donuts, engaged with on-campus organizations and indulged in Nutella-covered waffles.
Violette Ballecer, a freshman in the College of Arts and Sciences, is an event manager at the BU Campus Activities Board and said she has been involved in the creation of Winter Weeks of Welcome since October 2018.
"I'm brand-new, so I understand what it's like to feel new," Ballecer said. "I feel like these events facilitate an environment of friendliness and happiness and togetherness."
Ballecer implemented the new ice skating event this winter. Although the ice rink freely opens to the public following Boston University hockey games with the skate rental fee, Ballecer said they hoped to create a student-inclusive event, so the rental fee was also waived.
Planned and executed by the Campus Activities Board, these week-long events afford freshman and transfer students mingling opportunities and enabled returning students to bask in stressless activities before grueling assignments pile up, according to Ballecer.
Upperclassmen and established students tend to avoid these icebreaking events, said Zach McPheeters, a junior in the
who also aided in the design of the events as an event manager at BU's Student Activities Office.
However, he said all students can profit.
"It's all about making memories," McPheeters said. "They can make a memory here, coming to this, skating with their friends. My hope is that we make events that aren't just for freshmen, they're for everyone."
McPheeters said his job entailed arranging the new Silent Disco night, which was inspired by the popularity of a similar night at other colleges. He anticipated students' responses to determine whether the board will proceed with the same event next year.
While brainstorming prospective activities started in October, Ballecer said the work isn't finished until the event is over. Members of the Campus Activities Board toiled approximately 15 hours per week leading up to the events and met multiple times before their plans became solidified, according to Ballecer.
The board declined to disclose the precise cost of running the activities, but said the undergraduate student services fee supports these events.
Vrettakou said her experience attending Smores Indoors, Art á La Carte and Terr Up the Ice was positive. Bonding with friends from orientation and bumping into new faces produced a comforting first week, according to the transfer student.
As for next year's welcome week, Vrettaku said she hopes the activities will extend through the second week of classes since different people adapt at different times, and students could be more open to events later on.
"You never know who you will meet [or] when you will meet them, so it feels like a calmer, chill way to hang out in a safer place within the university," she said.