Soon after police found 23-year-old Olivia Ambrose on Jan. 22, 38-year-old Victor Peña was charged with her kidnapping. Meanwhile a viral screenshot of a message that said that a "top investigator in Boston" discovered a human trafficking plot circulated in the Boston area.
Screenshots of the text message, which said local Uber drivers had drugged their passengers and handed them to traffickers in a Cambridge-based operation and name-drops Ambrose, reached students at Boston University — heightening concern over kidnappings in the city.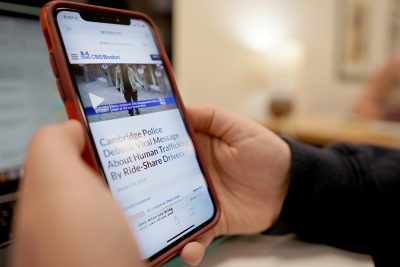 The Cambridge Police released a Facebook post in response to the influx of inquiries concerning the text message on Jan. 24.
"The Cambridge Police Department has no knowledge of any such info
rmation or investigation and the information does not appear to have any validity," wrote the Cambridge Police Department in the post.
BU criminal justice assistant professor Shea Cronin said the circulation of misunderstood or false news of crimes and investigations is not rare.
"A major example is the Charles Stuart case in Boston, where traditional news media helped to facilitate the false story that a black man was responsible for the killing of Charles Stuart's wife, when it was him all along," Cronin said. "I shudder to think how social media would have made that terrible situation even worse, but the traditional media sources played a role already."
In December 2018, the Harahan Police Department in Louisiana posted on Facebook that crystal meth had been contaminated by the Zika virus, and confusion ensued as the message went viral online and was shared at least 7,000 times.
The department has since deleted the post, and the police chief, Tim Walker, said the post was false and only meant to raise awareness on the opioid and meth problem.
Boston University Police Department Sergeant Daniel Healy said that anonymity could be dangerous in conjunction with social media.
"The reality of it is that a lot of this information can be generated anonymously," Healy said. "It's somebody that has the veil of secrecy behind emails and accounts that really don't line up to a specific person, so it really is just anonymous information that's flying out there."
However, the process of investigations have changed with the times, Healy said.
"Social media can bog investigators down in leads from the public that are influenced by false information," Cronin said.
Despite the potential downsides, social media has opened the doors to new forms of investigation, according to Healy. He recalled a time when social media helped BUPD protect students from a recent incident of checks fraud.
"When we messaged the community about a fraud in October 2018 — there was a fraud being perpetrated by checks — we asked people to be aware of it and to let us know if it happens to them or if they thought it was happening to someone else," Healy said.
Kevin Xia, a sophomore in the College of Arts and Sciences, said he thinks social media can spread false information quickly because it has such a wide user base.
"I wouldn't necessarily say that social media is a reliable source for these kinds of issues, but I think it's more accessible for people nowadays," Xia said.
Sarah Porter, a junior in CAS, said she thinks this viral Uber text message spread to many students throughout the Boston Area rapidly because it was easy to believe.
"I think that any information, whether it is from a reliable source or not, as long as it's plausible, people will continue sharing it," Porter said.
According to a 2016 Pew Research Center Survey, 62 percent of U.S. adults get their news from social media.
"When people hear gossip, studies have shown that when introduced to people via gossip, it affects the impression of that person," Porter said. "So even if the gossip is wrong, it still affects what you think. Especially in Uber's case, because it is a possible event, it still affects the way that people perceive Uber as a company."