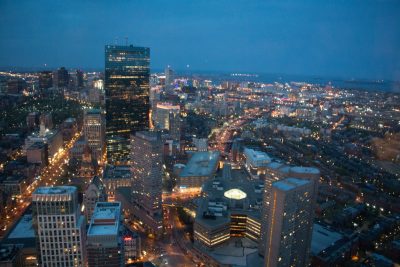 Cities have become focal points in many climate change studies and discussions, as they are centers of large population and rapid urbanization, and pollution caused by throngs of cars, buses and trucks is a part of living in major cities. An article in Columbia University's Earth Institute warned cities were especially vulnerable to climate change.
Faculty from across Boston University joined together in October 2018 to share their findings on urban climates as part of a new research program, called the Urban Climate Initiative.
The program is directed by Lucy Hutyra, an associate professor of earth and environment in the College of Arts and Sciences, and Patrick Kinney, a professor of environmental health in the School of Public Health.
Kinney said that the initiative is a combined effort to bring together research from different disciplines across the university, including physics, chemistry, ecology and health. He said this collaboration could help better solve problems climate change is causing in cities.
Hutyra said that urban climates vary based on their location in the world.
"In the most basic sense, you start out with your climate being defined by your geography — your mean temperature, precipitation, humidity conditions — which will define what can grow and thrive in that location," Hutyra said.
While the major factors that determine urban climate are latitude and longitude, she said, what humans do to the land is also important.
"Cities are at the crosshairs of climate impact because most cities have the urban heat island [effect]," she said. "The urban form and built characteristics of the city are a lot hotter, and so they're feeling many of the effects of climate change sooner."
Hutyra said that the temperature in a city like Boston can be several degrees hotter than what it would be outside of the city, which is caused by factors such as the retention of heat in buildings.
"Cities also tend to be located next to water, whether it be the ocean or rivers, and so things like flooding events and sea level rises tend to concentrate in the city," she said. "[Cities] are at the frontlines of climate impact."
Urbanization is growing so significantly that, according to Kinney, the livability of cities is a top priority for researchers.
"More and more people are living in cities," he said. "That trend is projected to continue to grow for the next few decades, so an increasing proportion of the world's population will be in cities."
According to the United Nations Department of Economic and Social Affairs, 55 percent of the world's total population lived in urban centers as of May 2018 — a number that is expected to rise to 68 percent by 2050.
The Urban Climate Initiative is looking for research opportunities present through funding agencies such as NASA, the National Science Foundation and National Institutes of Health, according to Hutyra.
Hutyra said students and faculty at BU have to recognize their relationships with urban climate problems, as they are people who live and work in Boston.
"We are an urban university," she said. "We live in a city and the environment, whether we intentionally choose or don't choose, [it] ends up influencing everything around us and everything we do. There's a lot that we can do to make it better."
A talk held Monday titled "Understanding and Improving Our Urban Climate" served as one of the main kickoffs of the initiative, at which researchers demonstrated their findings on urban climates and health.
"We're bringing faculty together from across the university to start to tackle some of these wicked problems that are some of the most important for improving the human condition and livability in cities," Hutyra said.
John Lei, a freshman in the Questrom School of Business, said that while BU researchers address climate change through their research, students can modify their daily habits to address the issue, too.
"A good place to start being sustainable is in the dining hall," Lei said. "I see a lot of food getting thrown away every day, so students could work on that."
The status of urban climates should be a concern to everyone in Boston, Hutyra said, because it directly impacts their health.
"It's where we live," she said. "It's fundamental to improving the human condition and making our environment more livable."