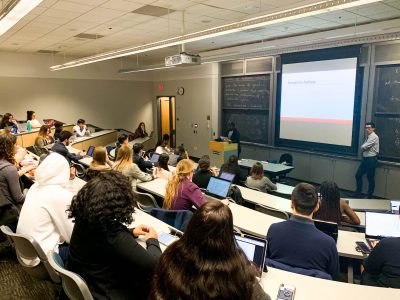 Boston University Student Government met Monday night to confirm two co-chairs for the Elections Oversight Committee and discuss upcoming school events.
Senate Chair Andrew Chiao began the meeting with a vote to confirm two co-chairs for the Elections Oversight Committee. Delaney Swann from the College of Engineering and Anna Pham from the College of Communication were both confirmed unanimously.
"The Elections Oversight Committee is basically a way for Senate to know what's going on in elections," Chiao said. "Generally senators report to their constituents. It's a way for them to have a say in elections and a way to communicate. There's a body that has oversight over elections."
Nehemiah Dureus, a senior ENG senator, then updated the senate on the Menstrual Product Initiative that was approved and funded by SG last semester. Distribution for free tampons and pads will begin next week in women's bathrooms and some gender-neutral bathrooms across campus.
"The menstrual product initiative is kind of a culmination of four years of work with me and a bunch of different feminist groups on campus," Dureus said. "With the $6,000 that we got, we've ordered tampons, pads and baskets and we're going to distribute them on campus this semester."
Senators from the College of General Studies then discussed how the CGS student government has not been meeting regularly outside of Senate meetings.
Chiao said that this is a problem for more than just CGS students. Low attendance and not meeting regularly are problems for multiple colleges, Chiao said.
"We work on a proportional representation, so more senators for CGS would be a separate constitutional issue," Chiao said. "Just even getting information to the CGS senators as to what's going on in CGS and what affects CGS students is not happening, and you need a student government to meet regularly for that to happen."
Senators also brought up that they sometimes feel powerless in creating change at the school.
SG executive vice president Hafzat Akanni said she disagreed with the notion that senators are powerless and encouraged SG members to "step up."  
"The idea that Student Government is powerless is ridiculous," Akanni said. "We are the most people on this campus, right? If not the students than who else? We can only push this so far and so wide, which is why we have the senators to stretch the bandwidth to all 17,000 students."
During an open forum, Senate discussed upcoming events that will be held at the school, including a talk with political activist Angela Davis this Saturday and an African Diaspora Cultural Night at the Warren Towers Dining Hall on Feb. 12.