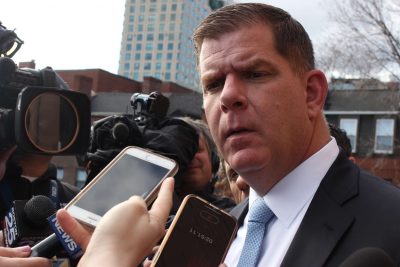 Boston Mayor Martin Walsh has launched a project aimed at rehabilitating affordable housing in Boston's South End with the Boston Housing Authority and Inquilinos Boricuas en Acción, a community development organization.
The project will focus on renovating the area's West Newton/Rutland apartments and will transfer ownership of the properties from the BHA to IBA, according to a BHA press release. IBA will work on renovating the apartments, and the construction is aimed to be completed in two years, according to IBA CEO Vanessa Calderón-Rosado.
The project will ensure that more than 140 of the apartments remain affordable for the next 99 years. Renovations will include repairs to stonework, new doors and windows, accessible ramps and a sprinkler system.
Additionally, 11 of the units that are currently classified as uninhabitable will be made livable, while eight other units will be renovated to be more accessible, according to the release.
The South End has 48 percent of the city's income-restricted housing, which is more than any other Boston neighborhood, according to a report on Boston's income-restricted housing.
The $47.2 million project is funded by a number of sources, including federal and state tax credits and a loan of $7.76 million from a collection of groups including Wells Fargo, MassHousing and the U.S. Department of Housing and Urban Development.
Funding for 110 of the apartment renovations will come from HUD, while the BHA's Section 8 project-based vouchers will fund work on the other 36 apartments, the release stated.
Calderón-Rosado said getting funding for the project took multiple years because of a need for multiple revenue sources. One of the reasons IBA chose to renovate a part of the South End, she added, was the organization's deep roots and involvement in the neighborhood.
"Developers have to pull a number of revenues to make these things happen, not one single source funds a whole project," Calderón-Rosado said.
Thomas Farmer, a spokesperson for MassHousing, wrote in an email that the organization has worked with the BHA and the city over the past 17 years to revitalize almost 2,000 in-need public housing rental units in Boston.
"Preserving and modernizing existing affordable housing is more cost-effective than building new housing, although creating new housing is also a top priority for MassHousing," Farmer wrote. "We hope that other owners of rental housing and municipal officials around the state would see the West Newton project as an ideal way to preserve and rehabilitate affordable housing in their communities."
Andrew Keeter, 28, of Brighton, said he is in favor of the rehabilitation plan himself but thinks that wealthier South End residents may be against it.
"I've seen units that are two or three stories go for $1.5 million or one unit in a brownstone for $750,000," Keeter said. "It's extremely expensive down there, but I also agree that you have to offer housing for people that can't pay those rates."
Cody Belland, 26, of Brighton, said he thinks the project will benefit Boston, as the city is facing an affordable housing crisis.
"There are obviously areas in the city where there's a lot of economic development," Belland said, "but at the same time, I don't know if other areas are kind of being left behind."
Sophia Nikolayev, 33, of Allston, said she wanted Walsh to invest more in affordable housing.
"This is a good start," Nikolayev said, "but they really need to be doing much more, as so many people need help. Otherwise more and more people will be forced to move out of Boston."
Joel Lau contributed to the reporting of this article.