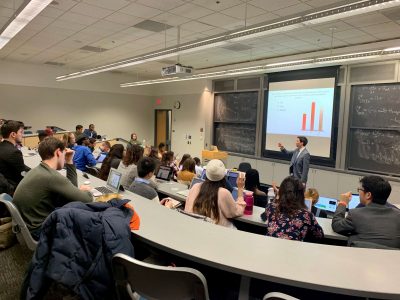 Members of Boston University's Student Government met Tuesday evening after the long weekend to discuss current and future SG affairs, including the potential impeachment of a senator and efforts toward greater environmental sustainability at BU.
The meeting opened with a vote on the impeachment of an unnamed member of the Senate Elections Oversight Committee, led by members of the Judicial Commission. Twenty-three senators voted against impeachment, while eight voted for it, with five abstentions.
The Commission had brought the vote to the Senate after receiving a letter of complaint and voting 4 votes to 1 vote to bring it in front of the Senate.
"Someone submitted a request for a vote to move to impeachment," Senate Chair Andrew Chiao said. "They emailed a formal letter — it wasn't just an email with concerns — it was an outlined letter to the Judicial Commissioner outlining specific things that they think said individual violated when doing their duties. They don't take it lightly."
Vincent D'Amato, a sophomore senator in the Sargent College of Health and Rehabilitation Sciences, presented election updates and laid out the dates for the upcoming SG election. Candidate intent forms are due March 1, a debate will be on March 25, and voting takes place between March 31 and April 7, D'Amato said.
Additionally, the Senate received a series of updates from SG officials Aditya Jain and Delaney Swann regarding efforts to make BU Dining Services more environmentally sustainable. Having met with university officials, they said they hope to relaunch the Wholesome Roots program, an initiative meant to help Dining Services reduce the amount of carbon produced when the university prepares food.
Such an initiative would require Dining Services to purchase less meat and more local ingredients. The Senate voted 35 votes to 1 vote to make the FEAST Committee, which would be in charge of the program, a standing committee so that they could stay active past the current term.
"Between faculty and staff, I think Dining Services interact with students the most," Chiao said. "Maintaining some type of formal relationship between students dining services is really important. It shouldn't just be someone tweeting at Dining Services, 'I found a hair in my food.'"
The night ended with the Senate discussing a series of amendments to SG's Constitution. One of the proposed changes was to prohibit members of SG from studying abroad during their term, something several senators objected to on the grounds that some members could still do work while abroad.
None of the proposals were passed, and discussion will resume next week.
"I think it was a productive meeting, especially when talking about the constitutional proposals," said Will Zhou, a freshman representative from the Questrom School of Business. "There's a lot to discuss and consider for next week."
Swann said she thought spending time in the meeting discussing constitutional amendments did not make sense when they were trying to be productive.
"This was definitely spicy," Swann said. "I think within Senate there's always infighting, so I think it's important to have a time and place to voice concerns."
Sofia Saric contributed to the reporting for this article.