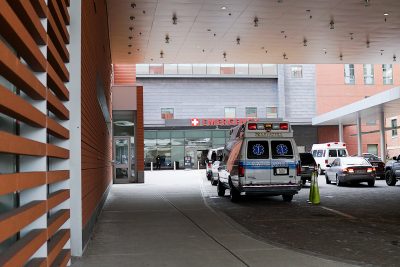 Eighty students were transported to the hospital for alcohol-related medical issues during the Fall 2018 semester, which is 10 more than during the previous fall.
According to an article published by BU Today, 52 of the students transported were freshmen. Of the transports, 27 were from West Campus, and 10 were from Warren Towers.
Katharine Mooney, the director of Wellness and Prevention at Student Health Services, said SHS has a number of programs that promote overall wellness, including counseling for excessive drug and alcohol use.
"We do prevention work on campus where we educate students on how to drink in safer ways if they do choose to drink, and then we also provide counseling for students who have gone to the hospital because of alcohol intoxication," Mooney said. "And in addition to that, we also support students who are in recovery from substance use disorders."
Mooney mentioned BU's Good Samaritan policy, which encourages students to reach out for help when they or someone else has an alcohol or drug-related medical emergency. If they do call emergency services for help, the university says, it will not pursue sanctions against the student.
In situations that do not fall under the good samaritan policy, she said, students found in violation of BU's Alcohol Policy are subject to disciplinary action under the Code of Student Responsibilities.
"If a student goes to the hospital for alcohol intoxication, we do reach out to them after that happens to just ask how they're doing, to make sure that they're OK," Mooney said. "And typically, they also are required to come in, either by Judicial Affairs or Residence Life, as part of the disciplinary process."
Boston University Police Department Lt. Daniel Healy wrote in an email that BUPD officers are the first to respond when a call is made about an overly intoxicated person.
"Generally a member of the community will call about a person that they observe to be overly intoxicated and are worried about," Healy wrote. "The BUPD officers will respond and will assess the person. Generally an EMT (emergency medical technicians) is called to the scene and assists in determining whether a person needs to go to the emergency room."
Healy added that on campus there is an alcohol task force that creates strategies for safer drinking habits on campus.
"BU has an alcohol task force which lists members from different disciplines around the University to discuss issues that intersect directly with alcohol issues," Healy wrote. "This group strategizes ways to reduce dangerous drinking through educations efforts as well as offering alternative events for those student[s] who choose not to consume alcohol."
Kendall Schneider, a sophomore in College of Communication, said strict state laws and a lack of education before college may be the reasons for the uptick in transports.
"I think it's kind of scary, I guess before you come to college there's not that much education about drinking and stuff like that," Schneider said. "I think the stigma against drinking, especially in this country, and with the laws being as strict as they are, I think it makes most underage kids really, really likely when they get to college to just go crazy."
Vansh Pushpraj, a freshman in College of General Studies, said he thinks there needs to be safer entertainment activities available to college students, especially those who are underage.
"I know that on the weekend it's casual to go crazy and have fun, but you can do that in very safe ways, and if you're underage, there is not a complete need," Pushpraj said. "I mean we're in the city of Boston, there's so many things to do."
Leah Boecker, a Wheelock College of Education and Human Development sophomore, said she thinks a combination of factors cause students to abuse alcohol, such as peer pressure, academic stress and the strain of adjusting college life.
"It's concerning," Boecker said, "and makes me wonder what needs to happen in order for the number to go down."