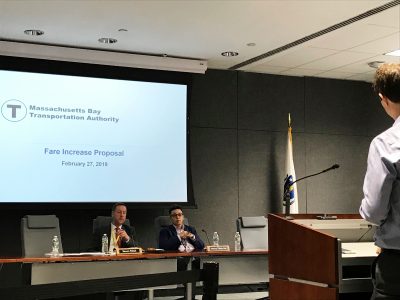 The MBTA hosted a public meeting to discuss proposed fare hikes Wednesday at the State Transportation Building in downtown, drawing a crowd of more than 100 people that included elected officials, community activists and residents.
Boston At-Large City Councilor Michelle Wu led those at the meeting who opposed the increased prices. Wu presented a petition with more than 2,700 signatures urging the MBTA to rescind its proposal and instead allow Boston's youth and elderly to ride free and lower fares for the city's poorest residents.
Wu said at the meeting that she would resist any attempt to raise ticket prices further, as the proposal would reduce ridership and increase carbon emissions while restricting many of Boston's poorer residents from using public transportation.
"This moment in history requires aggressive action against the threats of income inequality and climate change," Wu said. "I stand in coalition with elected officials and residents that are opposing the MBTA fare increase proposal and putting forward actionable, feasible next steps towards an accessible transit for all."
The proposal, which is scheduled to go into effect July 1 if approved, would raise fares by an average of 6.3 percent across the system. The new fares would raise the MBTA's revenue by 4.5 percent, or $32 million, starting in FY2020, according to the fare proposal.
MBTA General Manager Steve Poftak wrote in a Boston Globe op-ed Monday the changes would allow the MBTA to make much-needed improvements to the transit system.
"A fare increase, including the modest one now being proposed, is never an easy or popular decision," Poftak wrote, "but it will enable the MBTA to continue building on its progress made over the last four years to improve reliability for customers."
Wu said she has spent the last month talking to "thousands" of residents who rely on the T and would face difficulties if using the system became more expensive.
"I've heard from a mother in Dorchester whose teenagers constantly worry about running late to school as a result of T delays," Wu said. "… I've heard from a third-year resident of South Boston who told me that they love Boston for its convenience and the low cost of the T and are concerned that poor service and increased fares have lowered our standard of living."
Sarah Levy, the transit and environmental justice organizer for GreenRoots, a Chelsea-based social and environmental justice nonprofit, said during the event the MBTA did not pay enough attention to how a fare increase would affect Boston's low-income residents.
"The equity analysis does not take into account the relative impact of an increase," Levy said, "the fact that $10 per ride means something very different for someone who makes $20,000 versus $200,000 a year."
As for the timing of the meeting, Levy said the MBTA failed to ensure that the residents most affected by the rate hikes would be able to attend.
"There are thousands of people living in our communities, particularly low-income communities and communities of color, that don't have the luxury to take a Wednesday night off to be here tonight," Levy said. "A meeting in downtown Boston without childcare and without advertising is not an accessible public meeting."
Many attendees Wedneday said they were unimpressed by the MBTA's rationale and expressed frustration with the current transit system. They cited poor infrastructure, constant delays, fears for personal safety, inconvenience and unaffordability of the current prices.
Egan Millard, 27, of Weymouth, attended the meeting and said he had to pay more than $200 for a monthly pass to a transit system that consistently fell short.
"The $217.75 I now pay every month for my subway and commuter rail pass is a real hardship for me, and what does it get me?" Millard said. "Commuter rail service is so infrequent I have to plan my entire day and sometimes week around it, some type of delay almost every day, severe overcrowding every single day and truly appalling conditions in every station."
South End resident John Alves, 32, attended the event and said he was concerned with how the price increase would affect already marginalized groups that rely on the MBTA as their only form of transportation.
"I am here tonight because I strongly oppose the fare increase proposal by the MBTA," Alves said. "I oppose it for several reasons — first, it's unfair to the riders to bear the burden of these increased costs solely. It's unfair especially for low-income riders who I see every day on the Silver Line."