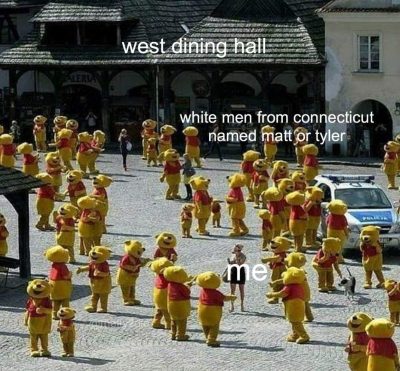 In her time as an avid contributor to Boston University's Facebook meme group, Vanya Kohlweg's friends complained about the incessant stream of notifications they received as she would upload new content. Finally, they encouraged her to start her own meme page — an Instagram account where she could share her original memes on a platform that could reach a broader audience.
Kohlweg, a sophomore in the College of Communication, created Rhetty2die, a BU-centric Instagram meme account, in January. She said she created the account to entertain herself and her friends but that it started gaining greater attention soon after she started posting.
In about two months online, Rhetty2die has amassed more than 1,550 followers with just over 40 posts. Most of the posts are simple text overlayed on an image, with a couple "starter packs" — collages of objects that represent a specific type of person — mixed in, as well.
The account calls itself BU's "finsta," referencing the "fake" Instagram accounts people will use to post photos and videos they would prefer be kept out of the public eye.
Kohlweg said she played off the "finsta" social media trend to post relatable and, at times, disparaging humor that is often found on these types of private accounts.
"I've always had a sort of self-deprecating sense of humor," Kohlweg said. "I don't know about other people's finstas, but my finsta is just a mess of emotions. … I wanted to convey that kind of humor through my account."
All the content on Rhetty2die is produced by Kohlweg, who cited Twitter and her day-to-day interactions as her main sources of inspiration. She said she also taps into other social and academic spheres around campus to create memes based on her friends' stories, complaints and perspectives.
Lisa Liberty Becker, a master lecturer in COM's writing program, wrote in an email that social media forums like Rhetty2die have created a space for students to come together outside of the classroom.
"As a whole, I think that [meme culture] has fostered a sense of community and given BU students a chance to laugh at things they have in common with each other," Becker wrote.
Kohlweg said the key to Rhetty2die's success is her inclusion of "very specific situations that still apply to a lot of people." Students will be able to understand and laugh at the experiences being portrayed, she said, even if they aren't involved in those things themselves.
While Kohlweg believes BU's urban campus can make it difficult for students to feel a sense of school spirit, she said, meme pages are a way for students to connect with one another and feel unified online.
"My approach to meme culture is very Marxist," she said. "I believe in the redistribution of memes to the masses."
Kiana Carver, a COM sophomore, said she started following Rhetty2die in February.
"I wouldn't call it spirit because spirit kind of sounds like you're all 'rah-rah,' proud of your school," Carver said. "It's more of a mutual, 'We're all going through this together,' kind of thing."
Kohlweg said she focuses on reflecting the diverse voices of the BU student body, carefully crafting each meme to ensure her content is universally funny. Over the past few months, she has created a process to test whether or not a post is Instagram-worthy.
"I go through my contact list and just send them to like 20 people," Kohlweg said. "I ask, 'Hey, guys is this funny?' or 'Is this good?' … If I don't get at least five LMAO's in all caps, then it's just not going to get posted."
Rhetty2die has experienced a recent influx of followers since being reposted by the popular Instagram account BarstoolBU, Kohlweg said. An account that began as a personal creative outlet has risen to local fame.
"I have people come up to me and tell me how [Rhetty2die] is relevant to their lives, and it feels really cool," Kohlweg said. "The fact that I'm connecting with so many people even if it's through something as simple as a meme, it has this very unifying sense to it. … It's super wholesome even if the content isn't always wholesome."