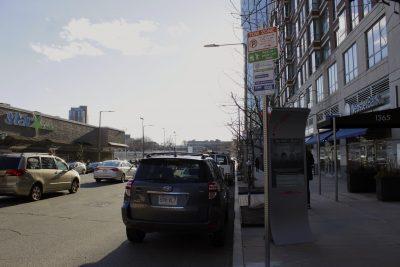 The City of Boston launched a pick-up and drop-off zone pilot for ridesharing services in the Fenway neighborhood Friday. The City will coordinate with Uber and Lyft to direct all drivers and passengers in the surrounding area toward the designated spots in an effort to ease congestion, improve passenger safety and streamline the pick-up process.
The Boston Transportation Department converted four parking spaces into two pick-up zones, located on both the east and west sides of the intersection of Boylston and Kilmarnock streets. These zones are reserved for pick-ups and drop-offs from 5 p.m. to 8 a.m. daily, and will remain normal parking spots for the rest of the day.
Vehicles in the zones must be accompanied at all times, and drivers will be allowed to wait for a maximum of five minutes. Drivers who violate these rules or leave their cars parked during the designated times may be ticketed and charged with a $90 fine.
Boston Mayor Martin Walsh said in a City press release the pilot's ultimate goal is to ensure that Boston's streets remain "safe, accessible, and equitable for all residents" while working toward the City's transportation safety and sustainability goals.
"Ride-sharing services have changed the way people travel — and with 35 million trips starting in Boston every year, this pilot will help us improve streets in our city, and bring us further towards our Go Boston 2030 and Vision Zero goals," Walsh said.
Tyler George, Lyft's New England general manager, said in an emailed statement the rideshare company was excited to work with the City of Boston on this initiative, as they believe this proposal could benefit Boston as a whole.
"We're thrilled to see the Mayor's Office of New Urban Mechanics explore innovative projects like this one," George said. "These zones will not only make moving around the area more convenient and frictionless, but it can meaningfully reduce congestion and improve the experience for drivers, riders, and the greater Boston community."
Tim Lawrence, vice president of operations and communications director for Transit Matters, said the Boston-based transportation advocacy organization supported the City's initiative, as the rise of rideshare services has worsened the city's traffic congestion and increased safety risks.
"Right now, Ubers and Lyfts are clogging up streets," Lawrence said. "They're double parking, and they're parking in bike lanes, which makes it very dangerous for cyclists. We're seeing accidents, and so it's encouraging that [the City is] thinking of this pick-up and drop-off zone."
In order for the pilot to succeed, Lawrence said the City needs to ensure it thoroughly enforces the pick-up and drop-off zones, as transportation network company vehicles unable to use the designated areas will end up blocking bike lanes and creating safety risks for everyone involved.
"The Boston transit department parking team is going to need to monitor these spaces and make sure that they're not being occupied by parked vehicles," Lawrence said. "And then second, we can't have TNC loitering at these pickup and dropoff zones because if their passengers aren't ready, they're going to have to essentially circle the block."
The City needs to improve the legibility of the traffic signs that demarcate the designated pick-up and drop-off zones and make them easier for drivers to see and understand, Lawrence said.
"They need additional signage that's bold and easily visible," Lawrence said. "… If you think of transit signage, it's very iconic, there's bold letters, they're very clear what this is, and right now, the way the City is proposing to do this pilot is just to put up these signs that just look like any other parking sign."
Annie Glass, 19, of Fenway, said because Boston is home to many college students who regularly utilize rideshare services such as Uber and Lyft, it made sense to establish these zones to help reduce congestion.
"It's definitely a complication when we see Uber drivers block roads, and it causes a lot of back up, especially around that campus area," Glass said. "I definitely think it's a good idea to have a designated zone for Uber because I know a lot of people use it nowadays, and it's convenient for a lot of people."
Allston resident Frankie Nash, 31, said while he does not live in Fenway, he thought the pick-up and drop-off zones would be especially helpful during games and events. He added the City would need to pay attention to neighborhoods' populations when it decides where to expand the program next.
"It honestly depends where you put them because in certain areas, it doesn't make much sense, areas that aren't populated," Nash said. "It would only make sense in areas that are highly populated."
Ryan Magnole, 25, of Allston, said as a driver in Boston he knows rideshare vehicles take up a lot of space when pulling over and waiting for passengers. Magnole said he thought the pilot was a good way to help alleviate this congestion.
"Especially in Boston, there are a lot of roads that are one-way or one lane. Either way, the streets are congested as it is," Magnole said. "… If you have a dedicated pick-up zone where there won't be parking, that would be great, it would help lower congestion."