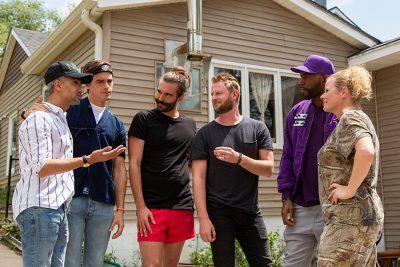 "Self love" and "self care" have become buzzwords for the social-media using generations of the 21st century. To most, this means mud masks, bath bombs and images of beautiful skinny white women drinking suspicious green smoothies.
The Netflix original "Queer Eye" takes this largely inaccessible genre of "self care" and reminds its audience that the road to loving yourself can't be bought at Jamba Juice or Lush.
The show, a remake of an early 2000s Bravo show called "Queer Eye for the Straight Guy," features the "Fab Five." Five gay men, each with their own speciality ranging from food and wine to grooming, make over every aspect of a man's life in order to reveal who he really was all along.
The popular series released its third season Friday. The first episode, "From Hunter to Huntee," was the first in the show's history to make over a woman.
Jody is a camo-klad Kansas City native. As a mother of three, correction officer and active hunter, the audience's first view of her home is accompanied with the sound of gunshots coming from her and her husband's practice range.
As a woman with a traditionally male job and traditionally male hobbies, the "Queer Eye" producers seemed to choose Jody to be the first female-makeover in order to open up a conversation about the spectrum of femininity and masculinity.
As every member of the Fab Five has their own heart-to-hearts with her, the audience learns that though Jody has a very loving husband who showers her in compliments, she hasn't felt confident for years. She knows she can do anything she sets her mind to, but doesn't feel beautiful.
The show emphasizes the Fab Five's job isn't to remake Jody but to make her feel like the wonderful woman that she already is. Through a lobster dinner, fashion show and women's support group, Jody proclaims that she refound "her joy" by the end of the episode.
Though "Queer Eye" has a positive message of healthy self-love and self-discovery that is theoretically important for a diverse scope of people to enjoy, its audience is clear. It is most popular among young and liberal viewers.
Aware of this audience, the show can sometimes take on topics outside of its ability to see out all the way through. In the case of the first episode of season three, the fashion expert, Tan, has a conversation with Jody about gun control in the aisle of a department store.
The discussion is brief and Tan expresses his opinion, "It just worries me that anybody can get a gun… and that's terrifying!" Jody agrees it worries her that you could buy a gun at a garage sale, but remains firm in her stance that Americans need guns.
The scene ends with them determining they agree, as they both believe in some sort of tighter restriction and they walk off arm-in-arm.
Given Jody's profession and hobbies, gun control is likely a conversation she has often and can provide a unique perspective on. While the show tries to tap into that, the conversation feels uncomfortable and forced.
If "Queer Eye" wanted to please its largely liberal fanbase with a discussion of gun control, more time should have been devoted to an extensive conversation — or the makeover show shouldn't have bitten off more than it could chew.
Overall, "Queer Eye" is a refreshing look at confidence and becoming a more-you-version of you. Audiences come for a heartwarming story and some inspiration from the role models they have come to love in the Fab Five, and that's just what the show should be.