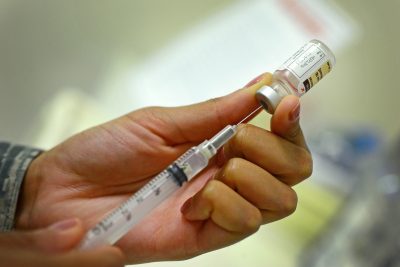 The Massachusetts Department of Public Health confirmed a case of measles in the Greater Boston Area Monday after the individual was officially diagnosed Sunday.
The individual went to several locations in Massachusetts where other people may have been exposed to the highly contagious virus, according to the DPH.
Catherine Brown, the state epidemiologist for Massachusetts' DPH, said in a press release from the department that getting vaccinated is the best way to protect yourself.
"The measles virus is currently causing large national and international outbreaks of measles," Brown said in the release, "and a lack of vaccination, combined with domestic and international travel, has resulted in the spread of illness."
Exposure to the individual with the confirmed case of measles may have occurred on Tuesday at KKatie's Burger Bar in Plymouth from 1:40 to 4:40 p.m. On Wednesday, exposure may have occurred at a Starbucks at 12 Market Place Dr. in Waltham from 8:40 to 10:45 a.m. and at the Framingham Service Plaza on I-90 Westbound from 2:05 to 4:20 p.m.
On Thursday, exposure may have occurred in Waltham at a Staples at 800 Lexington St. from 8:50 to 11:10 a.m. and at a Dunkin' at Wal-Lex Shopping Center from 9:10 to 11:15 a.m. From 11:55 a.m. to 2:05 p.m., exposure may have occurred at the Whole Foods at 990 Iyannough Rd. in Hyannis. At the Target at 250 Granite St. in Braintree, exposure might have occured from 2 to 4:05 p.m.
The DPH said in the press release measles is very contagious, and people who are not immune to it and who visited any of the locations specified could be at risk to developing the illness. These individuals are advised to contact a health care provider.
On Feb. 26 Massachusetts and New Hampshire officials confirmed an international traveler carrying the measles virus passed through Boston's South Station on their way from New York to New Hampshire, potentially exposing other passengers and city residents.