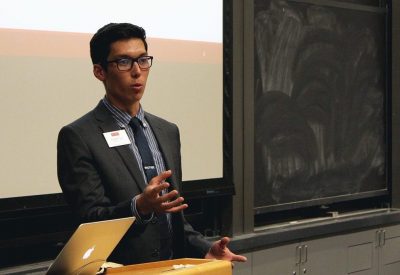 Boston University's Student Government Senate elected College of Communication senator Karla Leon to be next year's Senate Chair at their meeting Monday night.
Leon, a freshman double-majoring in journalism and international relations, was running against and defeated Aditya Jain, a sophomore senator from the College of Engineering. Both candidates gave a five-minute presentation before senators voted.
Leon said she has upheld certain values and rules in other leadership positions and would like to bring that experience to Senate.
"I want to give senators more resources for the things that they want done," Leon said. "Having a mentorship position would allow this."
Leon said Senate meetings need to be more efficient and noted she wants to increase the quality of the meetings, as well.
"As Senate Chair, I want to take all of these ideas and implement them," Leon said. "People have said there is a lack of respect within Senate, and I want to change that."
Monday's meeting continued past 10 p.m., when meetings typically conclude, and about 15 people left before the end of the night.
Leon said she will be able to command a room through her ability to build relationships rather act as a loudspeaker.
"I can fill big shoes when I need to, and I don't think being soft-spoken will affect my ability to fulfill the position," she said.
Leon was elected with a simple majority vote.
Senators also gave final cabinet updates for the year and debated two constitutional proposals.
SG Chief of Staff Tom Batson spoke about the Spring Concert, "802.1," saying the location was moved 24 hours before the performances because of last-minute permit issues. Batson also thanked senators for their efforts in making the concert possible.
"I really hope you guys enjoyed it, and we consider it an overwhelming success," Batson said. "We are really hoping to push this forward for years to come."
Sarah Paco, director of City Affairs, said her department was able to purchase a box of granola bars for Swipes for Boston, a monthly program where students come together to hand-deliver food, water and other supplies to people who are experiencing homelessness in the city.
Archelle Thelemaque, director of communications, said SG's media platforms are up more than 100 percent in terms of engagement. Thelemaque also encouraged senators to learn more about the position of director of communications.
"Please just come to my office hours on Thursday from three to four if you're interested in knowing more," Thelemaque said.
SG President Devin Harvin spoke on the behalf of Suzie O' Michael, director of events, because she was sick and announced there will be an SG-sponsored tie-dye shirt making event in Marsh Plaza on Wednesday.
Adia Turner, director of Social Advocacy, said SG had some issues throughout the semester in getting a social advocacy event to happen because there were issues with the Boston University Police Department.
"We are working with building better relationships with other groups on campus," Turner said. "Social advocacy is done for the year, but it has been a great honor to work with all of you."
Senate Chair Andrew Chiao then asked a group of six senators to present on proposed constitutional amendments consisting of wording and policy changes. The floor was then opened for senators to ask questions.
Senators voted to amend a constitutional rule that stipulated in order for a measure to pass, 50 percent of senators plus one were required to vote in favor. Now, just a simple majority is required to pass a measure.