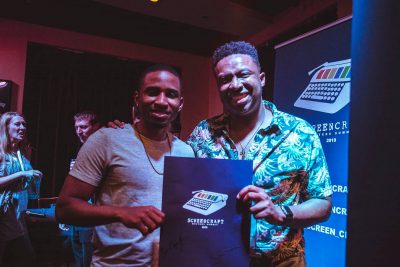 Christopher Sumlin, a Boston University alumnus, won "Best Pitch of the Summit" at the 2019 ScreenCraft Writers Summit this month for his original television comedy series "Dealing." Nearly 300 writers entered the competition.
Sumlin, who graduated with a master's degree in television from the College of Communication in January, said he developed the concept for "Dealing" during his time at BU. The show, according to Sumlin, was based on a book about his college experience he published as a BU student.
"I thought about, why not make a TV show where I take the lessons and things about myself intersected with humor and adverse situations and make it funny," Sumlin said, "and try to create an original scripted comedy series?"
Sumlin and said he was browsing for jobs post-graduation when he came across the ScreenCraft Writers Summit.
"I literally was like sleeping on a couch, not even in my place, like struggling, and on Twitter, I saw the film and TV summit here in Atlanta called the ScreenCraft Writers Summit," Sumlin said. "I was like, OK, this is the divine time, I should try to go."
Sumlin's pitch for "Dealing" was created as part of his master's thesis at BU, he said.
"My professor, professor [Garland] Waller, told us, 'If you're going to do your thesis on a TV show, really do it and do it well because when you're out in the world and you need a producer and you have an opportunity to pitch it, you want to have something ready,'" Sumlin said.
Sumlin said although he didn't expect to win, he thought he "owed it to himself to try."
"I did my pitch, did my part, all things that I was taught in the master's program," Sumlin said.
Sumlin said he was worried that not everyone would fully understand "Dealing."
"Because of who I am and where I come from, I'm always sensitive to race and age and gender," he said, "because my show really ties into African American culture, African American comedy, it's very clearly defensively for and by people of color."
But despite his low expectations, Sumlin's pitch won.
"It was one of the best moments ever," he said.
Since Sumlin's win, he said multiple production companies and an agent expressed interested in his show. Sumlin said he is confident in his materials and expects that "Dealing" will be in production by next year.
Corbin Sanders, who worked with Sumlin as a co-writer on "Dealing," said he became friends with Sumlin when they were roommates at Morehouse College, where Sumlin attended undergraduate school.
"One day he FaceTimed me and told me about the idea that he had for this TV show," Sanders said, "and that he wanted me to help him write it."
Sanders, who was a music major, said he didn't know anything about TV writing. What Sanders brought to the project, he said, was authenticity.
"It was kind of like, what sounds right and would this person really say this in this way and manner," he said. "That was my role to the project, which I had a lot of fun doing, by the way."
Sanders attended the ScreenCraft summit with Sumlin and said he wasn't surprised when Sumlin won.
"I mean, this is storytelling," Sanders said. "It's what he does."
Sanders said he has plans to develop a soundtrack for the show in the future.
Ryan Sullivan, a program manager at BU's Graduate Program in Religion and co-writer of "Dealing," said he met Sumlin through a production course they were both in at COM, and the two noticed they worked well together.
"After that, he had mentioned to me that he had a TV script pilot, so I read it, and I liked it a lot," Sullivan said. "And then he asked me for my input and to do some editing and things of that nature."
Sullivan said he and Sumlin worked on the pitch together for a while, but most of the creative credit should go to Sumlin.
Although Sullivan couldn't attend the ScreenCraft summit with Sumlin, he said after he heard Sumlin moved on past the first round, he knew "Dealing" would win. When he got a text later in the night that Sumlin had won, he said he wasn't surprised at all.
"It was kind of expected, but also, you know, I was immensely happy," he said. "I think 'Dealing' is something that hasn't really been explored yet on TV."