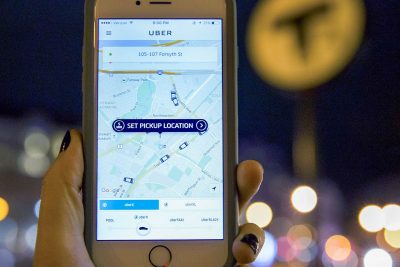 The Massachusetts Port Authority board of directors voted Thursday to approve a new ground transportation plan at Logan International Airport that will redirect all Lyft and Uber pickups and most drop-offs to the Central Garage. The plan will also levy additional fees on ride-hailing drop-offs.
The plan is designed to mitigate traffic congestion by reducing the number of ride-hailing deadhead vehicles — cars traveling to or from the airport without any passengers — by 30 percent, according to a Massport press release. Ride-hailing deadheads accounted for 5 million vehicles at the airport last year.
Starting Oct. 1, ride-hailing companies will be charged an additional $3.25 drop-off fee in addition to the existing $3.25 pick-up fee, according to the release. Massport will also incentivize riders to take shared rides, such as uberPOOL, reducing fees for these carpool trips to $1.50.
Massport board chairman Lew Evangelidis said in the release the new transportation plan, which is subject to review in six months, will improve congestion that currently hinders the airport roadway, the tunnels and Route 1A.
"This is the best plan for the long-term sustainability of Logan Airport, by reducing the traffic for all airport passengers, as well as the residents of our surrounding communities," Evangelidis said.
Ride-hailing vehicles will still be able to drop off passengers at the curb of the Arrivals level from 4 to 10 a.m, according to the release, since the MBTA does not begin service until 5:30 a.m. Drop-offs at all other times will be redirected to the Central Garage, the release stated.
Moving the pick-up and drop-off area to the Central Garage is expected to improve the ride-hailing experience in several ways — such as decreasing the overall trip time for passengers — according to the release. The area will be weather-protected, better lit and include access to baggage check and porters.
Lyft spokesperson Campbell Matthews said in an emailed statement while Lyft is glad Massport did not raise fees as much as originally proposed, the company is still "concerned by many elements" of the plan.
"To truly have an impact on congestion, it's critical that Massport includes all modes of transportation in their plan," Campbell said. "We will continue to advocate for parity across modes and affordable, convenient rides for all travelers."
Anthony Amore, who worked to rebuild Logan Airport's security process after 9/11 as an assistant federal security director at the U.S. Department of Homeland Security, said the initiative will likely ease congestion, but places an "unfair burden" on the travelers who take the least amount of time at curbside.
"The quickest transaction at the curbside is with a Uber or Lyft driver," Amore said. "Taxi takes much longer, and even when people drop off family members, that goodbye at the curbside really delays traffic. Drivers usually get out of the car. They do another goodbye. That slows things down."
Amore added that Massport should consider how efforts to decrease ridership of Lyft and Uber could affect the companies' drivers in particular.
"I do know that when we look to Lyft and Uber drivers, where we're targeting independent contractors, we're not talking about the 1 percent here," he said. "We're talking about middle-class and lower-class people who are trying to eke out a living."
Stephen Dane, 69, of Marblehead, said he thinks the additional drop-off fee is unnecessary, though noted the discounted offer for shared rides might incentivize travelers.
"I think it depends on where they live and … on what the the driver has to offer, whether they have other customers," Dane said.
Huong Nguyen, 27, of Allston, said she uses Uber to leave Logan because it is fast and convenient and she would like to have a better designated pick-up spot at the airport.
"I mean, that'd be nice," Nguyen said, "to have a location where I can just go to and then look for my driver."